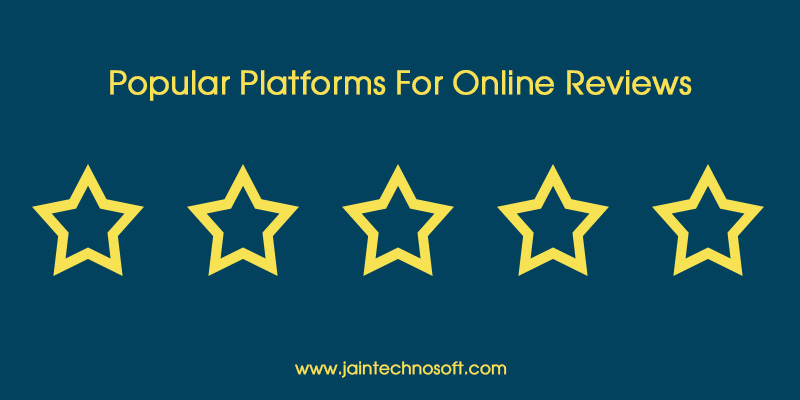 Every online business considers online reviews as an element for its success. Although it is not the most important element but, it is vital that you check for online reviews and monitor them. In order to monitor them, you must first know where you can find them. You need to know the most important sites where consumers rely on for online reviews. There are many online sites where you can get reviews about your business but, not every platform carries the same weight. Below are some of the most common and widely known platforms for online reviews.
Google
Google is not only the biggest search engine at present but, it also is a great place for reviews of a product or business. Google also provides the most popular searches for local listings with five-star scale ratings and reviews about them. But, Google requires a Google+ membership to post reviews.
Social Media Platforms
It isn't a hidden fact that social media is so widely grown that almost every individual is available on some or the other platform. Facebook is the most widely used social media platform today where people discuss everything from personal to professional, followed by Twitter. Check out these and other social media platforms for reviews about your business and products. You will get an idea of what people are thinking about you.
Your Own Website
You get comments on your products and services on your website right? Have you thought that you can consider these comments as internal reviews? This is the place where you can know how appropriate your customers are finding you and what they seem to be looking for when they come to your page. Check your internal pages for user comments and feedback.
Zomato
If your own a restaurant, this is the best place you can come for reviews. Zomato is the most popularly used site for eateries. Just like Google is a search engine, Zomato is also a search engine for restaurants. It brings reviews for all its searches and goes one step further by filtering the reviews for you.
Consumer Reports
This is where you can find reviews for cars, electronics, appliances, home, garden, babies & kids products, health equipment and more. They let you search for reviews based on these categories and provide a five-star rating system to every product and business. If you sign up with them, you can even customize your interests and have your previous searches stored in your history. They not only provide reviews and ratings but, they also take reviews from all over the internet and compile them together for your convenience.
There are many more reviewing platforms like Better Business Bureau, Angie's List, CitySearch and Insider Pages that you can rely on. But, remember, not all these platforms carry the same weight. One site might be getting more reviews than the other based on your business type; hence, carrying more weight. So, make sure to use multiple sources to rely on reviews rather than sticking to one platform. Also, keep checking for changes in reviews from time to time.
You need to keep improving on your site and business for better ratings. Even if you get a five star rating, it is important that you take steps to maintain your position. For more SEO tips and assistance, you can get in touch with Jain Technosoft, a leading Search Engine Optimization company in India, who are expert in improving the ranking of web pages in an organic manner with correct use of keywords, proper link building, good navigation, great website structure and attractive content.