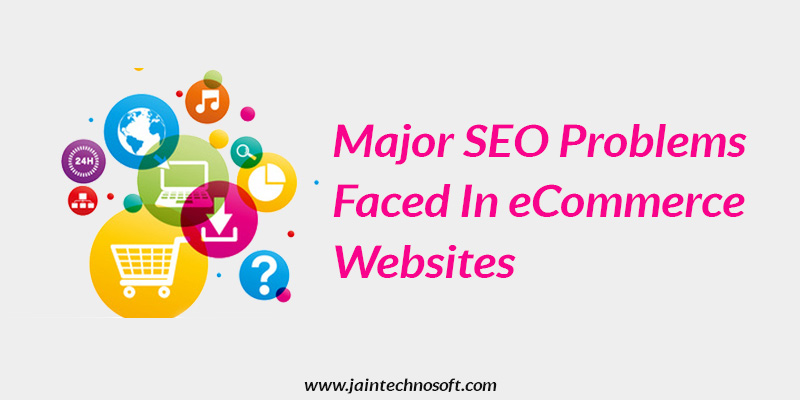 E-commerce websites deal with product inventory records and prices along with constantly adding new pages and products to their websites. This involves a number of people working on the site, and it is not necessary that everyone working on the site has a proper knowledge of SEO. This means they don't understand how changes done to the website have an impact on search performances, and in turn impact rankings in search engines. Minor things can result in another website taking away the higher rank.
Here are some common SEO problems that are seen in e-commerce websites:
Improper keyword tags
You must be very careful while placing keywords in your website. Some users require detailed keywords to get to the specific product page. For example, while searching for a mobile phone, the user may want to search for all the Samsung mobiles so, he will only type the keyword "Samsung mobiles". But, there might be users who know which model they want and hence will type "Samsung Grand Prime". General keywords will drive you more traffic but, you must also provide detailed keywords for those who already know what they want, or you may miss out on quite some possible conversions. No product reviews, poor keywords and less content result in poorly optimized product pages.
Inadequate product descriptions
Users generally search for every product's description before making a purchase. Thus, you must create a unique description for each of the products you sell. It definitely is time-consuming but this is important too. Only supplying a product image will neither suffice the user's need nor will it be read by the search engines. Remember not to use the manufacturer's product description or content used in any other site. Provide quality descriptive content about each product but keep it short and simple. Lack of quality text description may hinder the chances of your page being ranked in the top of search engines.
Duplicate content
Duplicate content can be created by archives, tags, category pages and more. These areas must be blocked by robots.txt so that they are not indexed by search engines. Canonical tags should be used to indicate to the search engines which pages are to be indexed. You can add no-follow attributes to links that point to areas of duplicate content.
Inappropriate URLs
You must have keyword friendly URLs, which means that your URL should be able to tell the users what it is talking about as soon as they look at it. Do not use anonymous URLs or those with lots of numbers and garbage. Create appropriate descriptive URLs for each of your products. This makes it easy for the customer to know what to expect when they click on the URL.
Inadequate internal linking
There are so many people involved in the building of a website. Copywriters, designers, managers and marketers may not be interlinked well, which will result in the loss of business because each of these people may use different site links in their projects, which may differ from one another and might also be incorrect. This will result in getting your business less value and confusing the search engines to decide which the best and correct URL of all is. Let each department know the importance of consistent linking and provide each of them with the URL that you want to rank in search engines.
No SEO & SEM Collaboration                     
It is very important for SEO and SEM to work together as a team. E-commerce websites are at great loss if these two marketing channels do not share their data with each other. SEO teams can rely on SEM teams for keyword data and SEM teams can analyze what keywords are being ranked by SEO.
If you own an e-commerce business and are facing any of the above mentioned problems, you definitely want to solve these issues for a higher ranking in search engines. Jain Technosoft, with its quality SEO services can help with all your SEO queries and problems.