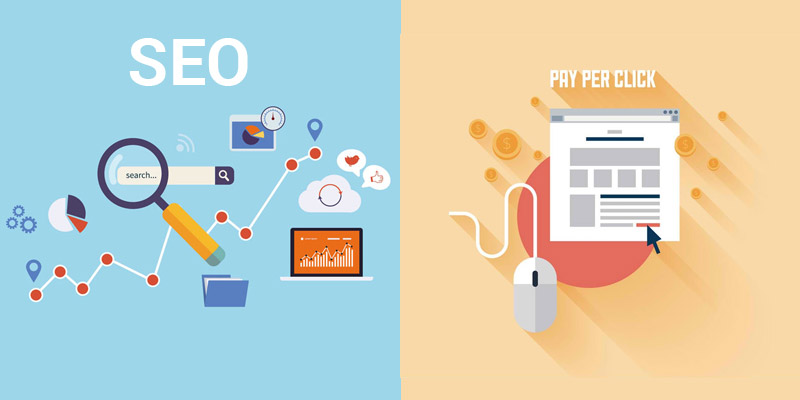 There are two basic ways of boosting incoming traffic to your website – Search Engine Optimization (SEO) and Pay-Per-Click (PPC). There has always been a debate as to which of the two is a better option. While both of them have their own benefits, you must know which one will work for you.
PPC is when you pay for traffic using paid advertising programs provided by Google AdWords that enable you to display ads in the sponsored results section of every SERP. Based on how competitive your targeted keyword is, whenever a viewer clicks through from your ad to your website, you pay a fee.
SEO, on the other hand, is a free unpaid way of building traffic by achieving high rankings in natural search results on SERPs (and not in the sponsored section). However, there are certain SEO practices you will need to follow and put in efforts at, to have your site displayed on these pages prominently. This is a time-taking process and requires quite some efforts, but when done in the right way through professionals providing the best SEO services in India, you will definitely reach the top of the natural results and see a boost in free targeted traffic.
But the question that still remains unanswered is which one to opt for – SEO or PPC? Here are a few things you need to consider to make the perfect choice.
Budget consideration
What is the size of your advertising budget? How much can you spend on a daily basis? If you are short on budget, there is no alternative but to stick to free SEO methods. However, if you can afford to invest a little of your amount into PPC advertising, do give it a try at least once.
Cost-per-click
What are the others in your niche paying for their ads? PPC will have you bid for what you are willing to pay for a single keyword click, and this fee is called Cost-Per-Click (CPC). Depending on the keyword phrase you wish to target, you can use the Traffic Estimator within the free Google Eternal Keyword Research Tool and check for its average CPC. If the price for your targeted phrase is difficult for you to pay, you better opt for SEO.
Algorithmic changes
One major issue with SEO is that Google keeps changing algorithms from time to time. In case of any such change, websites have a chance of losing rankings and profits; and this may even happen overnight! But, when it is paid traffic, there is a steady flow of visitors; so you need not worry about the changes Google or any other search engine makes.
Competition level for your targeted keywords
Use the Google External Keyword Research Tool to check how competitive SERPs are for your target keywords. This will also help you know the number of advertisers bidding on your keywords and the average CPCs. If the competition is really high and the SERPs for your target keywords are dominated by authority websites, it will be almost impossible for you to drive them out without a significant amount of time and money invested. So here, PPC promotions make more sense.
So, you see that choosing between SEO and PPC depends on your requirements and budget. If you want a fast-paced traffic coming to your site and you are willing to pay for it, PPC is the right choice for you. However, if you have a restricted budget, you must opt for SEO. But, it isn't always necessary to choose between the two. If you can afford to and work upon combining both PPC and SEO, you can get even more powerful results.