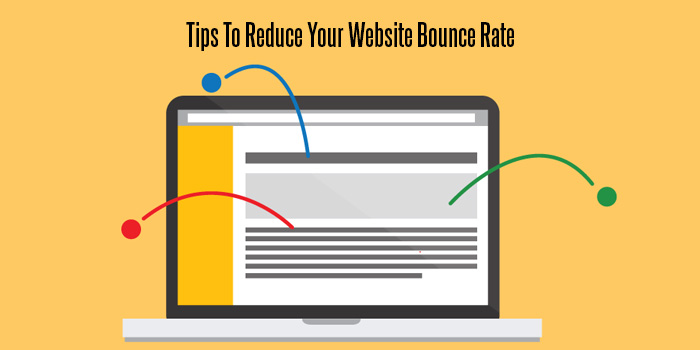 Many websites do everything possible – right from the best web design, right images, and appropriate content to great speed and security – in order to build a website which not only attracts the right traffic, but also brings in more conversion. Yet they do not get the expected conversions. There are several businesses as well as web developers which are constantly looking for ways in which bounce rate of their websites can be bought down.
So first of all, let us have a proper understanding of what exactly is bounce rate?
Bounce rate is the percentage of visitors who enter a website and leave it without seeing the other pages in the website. Bounce rates usually helps us gauge the effectiveness of the entry page of a website in generating interest among the visitors. Google Analytics is one of the best ways in which you can measure the bounce rate of your website. A higher bounce rate is indicative of the fact that your web page is not engaging/ attracting the visitors.
Here are some very common reasons for high bounce rate of a website and tips on how you can overcome it:
Web design should be appealing
Web design does play an important role in attracting the visitors. Often it is seen that many websites are cluttered with pop-ups and ads – things which drive away the visitors. Thus even though your products are one of the best, there is hardly anything which will make the visitors hold on to the website.
Our Tip
Get the services of the best web designers. Today finding a good web designer is not a difficult task. Apart from this, see to it that your website/ web design is regularly updated. These simple steps are surely important to bring down the bounce rate of your website.
Proper Keywords
All websites use keywords, but the question is – are you using appropriate keywords? It is usually seen that if you do not use the right keyword, you get a mixed traffic of people who are looking for many things, but sadly not what you are selling. Therefore it is essential that you know at least top 5-6 keywords for your website.
Our Tip
Take the services of the best SEO companies; they will help you know the right keywords which will not only bring more traffic to your site, but also bring down the bounce rate. You can use these keywords intelligently throughout your website as well as in your blogs.
Call to Action
Often several websites lack "call to action". With the right web design, appropriate keywords now it is your job to help them take the final step. If your home page does not have any call to action then how will the visitors know what you want them to do!
Our Tip
Be sure about what you want your visitors to do. Whether you want then to "get a free quote", "buy from you", "download a free eBook" or "subscribe to your newsletter" – make your call to action in bold fonts which is colored differently from the surrounding texts. Just this one simple step will be enough to help your visitors and will surely help you get better conversions.
Follow these simple steps, and we are sure that the percentage of your website bounce rate is surely going to come down. Ensure that your website is like a lovely restaurant which people enjoy to visit and get exactly what they are looking for. Target the right audience with the right content and keywords and thereby experience lower bounce rates and a drastic increase in your sales.