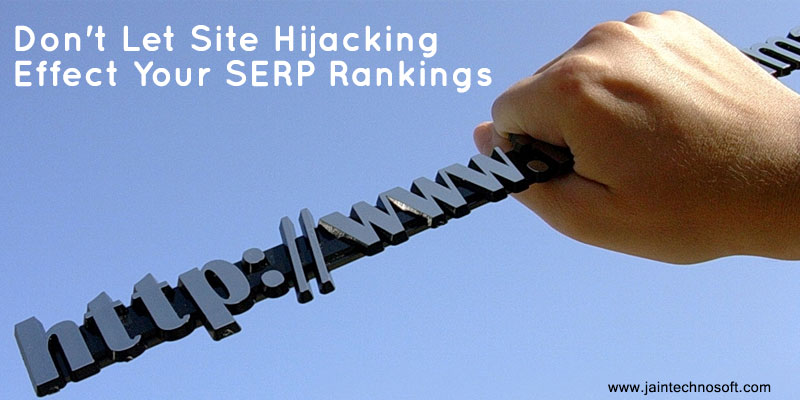 When it comes to website hacking, online business owners and several webmasters across the globe are always on their toes. At one point all of us want to deal with this threat in the best possible manner. Also in case if you already got a notice of "suspected hacking" from the Google Webmaster Tool, it is all the more important that you secure your site against hacking.
In this post, we bring you tips on how you can secure your website ranking against SERP hijacking. Before we move on to knowing how to avoid SERP hijack, let us first examine what constitutes it.
Imagine that you did a lot of hard work with the most effective search engine optimization strategy and thereby your website is running smoothly and has gained better rankings due to right use of search engine keywords. But one fine morning, you see that the keywords of your website and links are pointing to someone else's business. Then you notice that the search engine traffic of your website is falling dramatically and then you realize that your pages have disappeared from the search engine results pages (SERPs). This situation is called SERP hijack.
Now, how will you know that your website has been hijacked?
The first method to is to set up a Google Alert for the words "site:domain.com". Once you do this, you will be notified about any new content indexed by Google. In case the content looks shady, all you need to do is take the apt action to remove it as soon as possible.
The second method is to identify the hacking with the help of Google Webmasters Tools. Inside the tool, you can easily set-up email alerts in case Google detects that the website has been hacked. While in the first method you would notice the hacking before Google, in this method it is Google which discovers the hacking for you.
But as they say, prevention is better than cure. So in this post, we bring you ways in which you can secure your site against hijacks.
Use only trusted WordPress Plugin
Since the time they have been introduced, WordPress plugins have been targeted by hackers. WordPress plugins have major security gaps in its code, and though there is no "trusted plugins only" tab in the plugin section for WordPress, we recommend that you conduct a thorough research about the developers of the plugins, reviews etc. before installing it.
Block WordPress Login
You can do this by limiting access to the "wp-admin" folder in WordPress. Allow only a selection of IP addresses to the login section of the WordPress login and redirect others to a page of your choice. This way you can block automated scrapers from logging in.
Use Website Firewall
You can make use of popular website firewalls in order to fool proof your website from hacking. Website firewalls are usually easy to install, protects the site from hacking, there are many websites which provide defense against DDOS attacks along with load balancing to your website.
These are some steps which will save your website from being hacked. We are sure that once you follow them, you can very easily secure the ranking of your website against SERP hijacks.