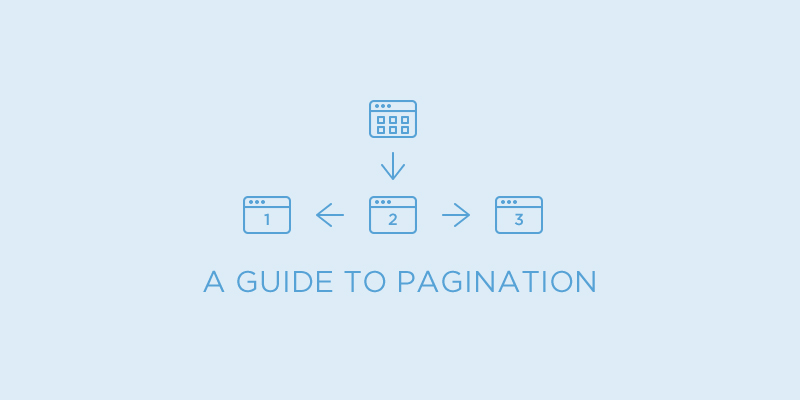 Pagination surely is one of the least favorite aspects of SEO. Pagination is basically a way of numbering the data on a web page in order to make it more manageable and user-friendly. Thus it is the process through which the page will look informative and make browsing/ searching easier for the visitors on the website.
Pagination is an important element in search engine optimization as it not only determines the usability of the website, but also plays a crucial role in the conversion rates and the website rankings. At the same time if pagination is not optimized, search engine crawlers may not crawl as deeply into the website as they should be. Also there are chances that the duplicated content on a website may become more obvious causing Google to take notice and decrease the priority of the website. This is the major reason why there needs to be proper SEO strategy for pagination.
According to SEO experts the best time to do pagination is during the design process. This way you do not have to recode or restructure the page post website launch.
Here are some recommendations from Google Webmasters which will help you come up with search engine friendly pagination:
Systemize your View-All Version
This step is very crucial in case your paginated series has an alternative view-all version. In such a case Google usually detects it and de-dupes your paginated pages in favor of your view-all pages. Thus it is advised that you systemize your 'view-all' version.
Research shows that visitors prefer to land on 'view-all' page, by systemizing your web pages not only do you make your website more user-friendly; but you can also very easily avoid content duplication issues.
Use HTML markup to show Pagination
Since 2011, Google has uses rel="next" and rel="prev" markup to detect and index paginated content as a series of pages, rather than individual pages. This way Google will easily crawl and index several of your paginated pages. Do not forget to include the page number in your canonical URL.
This way not only will your pages load quickly, but this step is also helpful for websites which do not have a 'view-all' version available.
Build Pagination Relationships
This can be done by using "next" and "prev" tags. With these tags you can establish relationship between all pages in a paginated series. Also by opting for such tags you can very easily avoid the paginated pages to be seen as duplicates. Another advantage of building relationship is that the link equity of the various pages on your website will not be wasted.
At the same time it is recommended that you avoid excessive pagination as the crawlers might end up crawling the paginated pages and not crawl the key areas of your website.
These are some of the easiest ways in which you can paginate your web pages and get better search engine optimization results. Follow them diligently and experience better SEO rankings as well as improved traffic on the website and sales for your business.