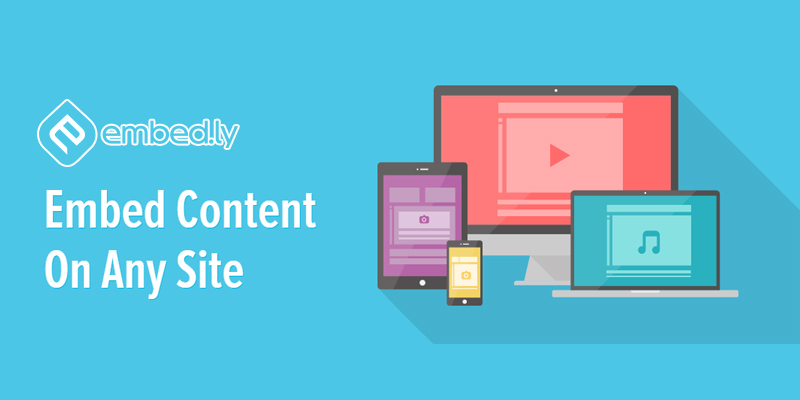 You think you have written a blog and visitors are coming to read it, so you have achieved success? But, unless you have visitors coming back to you for more, you can't assume yourself successful. And, in order to have visitors coming back to you, you need to use the right tools and plugins. But, with so many tools and plugins around, how would you know which one to choose and which one to leave out? 'Embedly' is the solution to your problem. With easy installation and one that runs in the background, you can download the Embedly WordPress plugin easily and you will be able to enhance your blog engagement with your visitors. You want to know how? Read on.
What if you have a blog that has an article or video embedded that is aligned correctly, with analytics, sharing buttons, styling options and recommended videos or blogs? This is what the Embedly plugin helps you with. Let's know about this in detail.
Styling Options
You can change the styling options for your embeds in terms of size, width, alignment and background colour. You can adjust the cards to work better for darker themes. All this is broken down into a simple, easy-to-use interface. All your stylish adjustments are available under Embedly settings > Advanced Embed Settings in your WordPress dashboard.
Social Sharing Buttons
The social sharing buttons available on your blog will help viewers to share your content across the Web easily. This will let other people see your blog and come to read it thus, driving more traffic to your blog.
Real Time Analytics
Provided in your dashboard, real time analytics helps you to see how many people are actively watching your video embeds. By viewing this, you will be able to understand what your users prefer watching.
SEO and Improved Analytics
Unlike the traditional WordPress embeds, the Embedly plugin adds text to the code, which the search engines can read easily. This improves the findability of your posts.
Recommendations
Once your visitors complete watching a video, the recommendation system from Embedly will show them related videos from your blog, which will further attract them to view another video from you. Thus, circulating your content in this way increases your blog's overall engagement.
These are the biggest benefits of the Embedly plugin, which can help you develop a strong strategy and put in the right tools. You will need a key for installing Embedly, which can be found in your Embedly account under API > Key. Embedly can also be installed for multi-site, where you will need to activate the plugin for evey site. Embedly also helps in boosting SEO because the embeds for this plugin include title and meta description information, which provides relevant information to search engines about the embeds. So, you must take up the opportunity of achieving all these benefits and install the Embedly WordPress plugin right away. And if all this seems too technical for you, take help of a digital marketing company who can do the perfect job for you and keep visitors engaged to your blog.