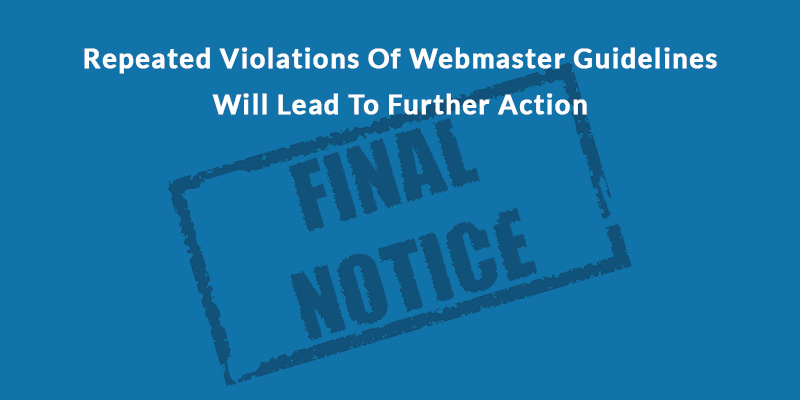 Google has set certain Webmaster Guidelines for websites to follow. But, it has seen many webmasters violating these rules. In order to give the users a high quality search experience, Google takes actions – both automated as well as manual – against sites that violate these guidelines.
The automated actions do not relate to the algorithms like Panda and Penguin. It has other automated actions. While, the manual actions are the penalties you see in the Google Search Console that are issued by Google Search Quality representatives. You can check which part of your site has seen an action taken and why in the 'Manual Actions' page in Search Console. You can then fix the site accordingly and send a reconsideration request to Google so that it can reconsider your site and remove the penalty that has been imposed on it. There are many websites who have got the manual actions taken place against them cancelled in this way.
However, Google has seen many websites repeatedly violating its Webmaster Guidelines. Once they fix their site and ask Google for reconsideration, and Google even removes the penalty over them, they again return to repeating the same breaches. Such repeated violations will not be able to achieve a successful reconsideration process because Google visualizes this process as spam and plans to take further action on the site.
Google's Search Quality team confirmed this point in a blog post written at the Google Webmaster Blog saying, "If webmasters repeatedly violate the Google Webmaster Guidelines and get caught, Google may take further action against their sites and/or make a successful reconsideration process more difficult to achieve."
Google also clearly stated how websites are repeatedly violating the rules. It wrote that the site owners are going through a process of getting hit with manual penalties – fixing the issues that led to the penalties – submitting a reconsideration request – getting the penalty removed and going on to spam again.
Once you get hit with a penalty, you fix the issue and achieve a successful reconsideration request does not mean that Google will no longer check your website for further violations. The Search Quality team at Google makes a check of every tiny change made to your site everytime.
In order to avoid letting Google see you as spam, stop violating the Webmaster Guidelines and avoid manual penalties from Google. The Search Quality team has confirmed that they will continue to remove spam from Google's search results and protect users and improve user experience. What Google means by 'further action' is still not clear but it may mean that the website might not easily get the penalty cancelled or maybe the site could even get de-indexed from Google!