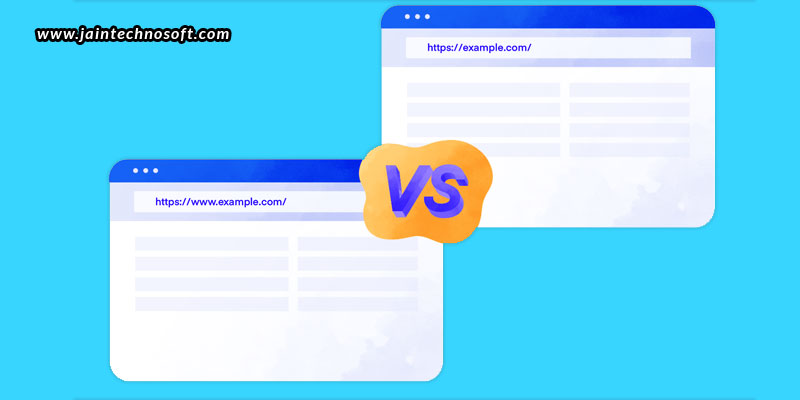 There was a time when everything online was just "www", but that's not the case anymore. Businesses are now opting for non-www choices. Why? And, what impact does that have on the website's performance or SEO? Let's find out.
Does www or non-www impact SEO?
From an SEO perspective, it doesn't really matter whether you use a www or non-www domain; however, there are a few pros and cons for each choice.
Is www better or non-www?
WWW – This type of domain name has been used for years and is considered as standard. It also allows you to set cookies for your specific www subdomain. It's also easier to set up a CDN. However, it takes longer to type in the Web address, and also takes up more space in the address bar.
Non-WWW – It is a short domain that is easier to say and pronounce. But, it's difficult to get a CDN to work, and there's no option to restrict cookies only to the root domain.
The slight advantages give the www domain a small edge. It's more of an indirect but positive effect, although not a very significant one. Moreover, the benefits that www domain offer can be replicated for non-www domains, with some workarounds. For instance, you can use a separate domain altogether to host your static content, making cookie restriction functionality of a www domain unnecessary.
Can one use both www and non-www?
Technically, using both www and non-www domains are not recommended. In fact, Google will see both these as two different sites, which means it will index both, thus resulting in duplicate content issues. Also, your link equity will be split between the two domains. This means that your search engine rankings will potentially be harmed. The best choice is thus that you choose one domain over the other, and not use both. Yet, if you still want to have both the versions indexed, you'll have to set up and maintain both sites in Google Search Console. Also, you can use canonical tags to prevent duplicate content issues by specifying the preferred version of your Web page or domain to Google. This way you tell Google that you know you have a duplicate version of your site, but you also want the search engine to know which one is to be indexed.
To conclude,
Understanding all of the above-stated points, you can decide as to which version you should use for your business. Once you decide which one to use, make sure that all your sitemap URLs and internal links use the preferred version, and that you have consistent backlinks. Nevertheless, it seems like very soon, www domains will become obsolete, as most people don't bother typing them while searching for a website. What they do is just type the brand or company name, and expect Google to bring up that very company's website to the forefront.
If you're still unable to decide, you can leave the decision in the hands of professionals offering SEO services in India, to help you better decide as to which domain type can bring to you better benefits in terms of website performance, user experience, and SEO.