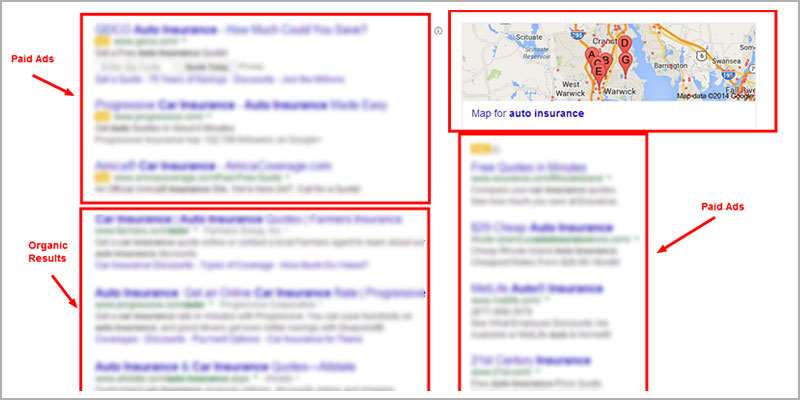 You might be aware of the desktop ad layout change that Google had recently announced, where it stated that text ads in the right side bar on SERPs have been removed, and four ads will be shown at the top above the organic listings and three ads at the bottom of the page. It's been a week since this change has been applied. So, you would be keen to know how this change has impacted the Web. Take a look at who has benefited and who has suffered from this change.
Who all have benefited?
PPC marketers, 3rd positioned ads and PLAs have benefited.
PPC marketers – After a survey, it has been determined that the side and bottom ads account for only 14.6% of total clicks on a SERP, and ads in the top positions get 14 times higher click-through rate than those located elsewhere. But, remember that the change mentioned above is only for desktop search. With only 50% of searches made on desktop today, the change will be impacting only 7.3% of the queries. Another benefit for PPC marketers is that all ads can now use call-out extensions, site link extensions, location extensions, etc. Earlier, this was restricted only to top of the page ads.
3rd position ads – WordStream data has shown that ads on the 3rd position have gotten the biggest boost with click-through rates increased by 15%. In fact, the CTR of the 3rd position doubled on Thursday when the ad layout change occurred and it has stayed consisted till now.
PLAs – Removing ads from the right side bar has boosted PLAs in a way that it has attracted a slightly higher CTR and a bigger share of paid clicks from SERPs.
Who all have suffered?
Organic search and ad positions 5 to 11 have suffered.
Organic search – The clear loser of this change is organic search because the paid position number 4 is now the new organic position number 1. Although SERPs featuring four-ad AdWords block will make up only a minority of search results with only 36.4% but, SERPs with highly commercial queries will no longer be showing the top organic search result above the fold. But, with the best organic SEO company India, you don't need to panic. It will take care of all the aspects for your website to make sure you get the traffic you deserve and lead them to convert.
Positions 5 to 11 – WordStream data has shown that the impression share and total share of all paid clicks has declined for ads in positions from 5 to 11 since the change. Ads in positions 5 to 7 saw lesser reach and those in positions 8 to 11 have been hit the hardest by the change.
So, you see how some win and some lose with the same Google change. But, there is no need to panic. Google has always been constant with change. And every time it comes up with a change, some have been happy and some have feared but, everyone has learnt to get through it. So this time too, we all will get through. Just keep adjusting and monitoring your campaigns as required.