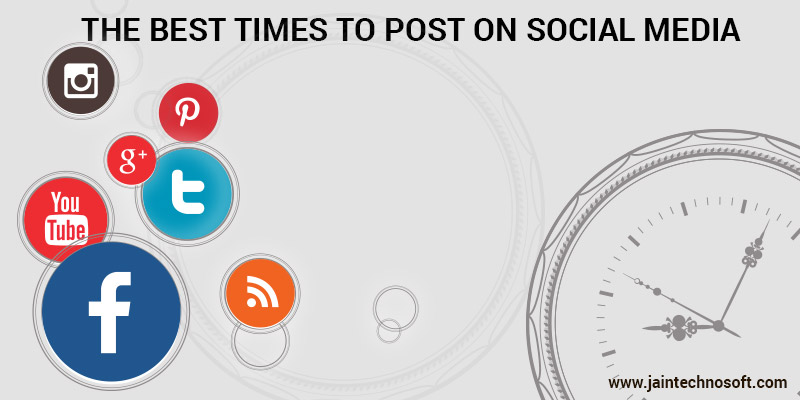 Have you ever thought that the timing of your posts on social media is also equally important to reach out to your target audience? As per Social Media Marketing guidelines, here is a guide which will help you know the right time to post on various social media platforms.
Twitter
The best time to tweet depends on your target audience. In case you are engaged in B2B, then it is seen that tweets on week days (Monday to Friday) gets maximum click through rate (CTR). As businesses work with other business on weekdays, this is perhaps the main reason why a constant flow of CTR is in B2B during the weekdays. Statically B2B sees 14% more engagement on Twitter than weekends.
On the other hand, if you are engaged in B2C, then it is advisable that you post the tweets from Wednesday to Sunday. As most consumers explore the brands during weekends, it will be more fruitful to post the tweets on weekends.
When it comes to the specific timing of the tweets, majority tweets are posted during work hours – 9AM to 6PM, with the peak time being 12 PM to 1 PM. Apart from this, it is seen that most retweets happen on Sundays, especially between 10PM to 11PM.
In order to know which the right time is to tweet based on the inflow of your audience, it is recommended that you use tools like Follwerwonk to know the optimal time tailored to your audience.
Facebook
Though many FB users use this platform on the daily basis, it is seen that interactions per post increases gradually over weekends. Posts published on Sundays see greater interactions per posts. It is also seen that engagement rates fall 3.5% below average for all the posts published from Monday to Wednesday.
When it comes to the timing of publishing posts, it is seen that posts published at night get more interactions, while those posted on 1 PM get most shares and those posted on 3 PM get more shares. You can use the tool named Fanpage Karma to find optimal time tailored to your audience.
LinkedIn
Basically being a B2B platform, LinkedIn sees a lot of action during weekdays and particularly during the business hours. The best days to post on LinkedIn are from Tuesday to Wednesday between 9 AM to 6 PM.
Based on the above given facts, it is very easy to draw some general conclusions which can be easily applied to majority social medial platforms. These generalized conclusions are:
Most posts are published on work week
Largest volume of posts happen on Thursdays, especially around lunch hours
You can maximize the reach of your posts by publishing them in the evenings and weekends
When it comes to sending emails to your subscribers, it is recommended that you choose work week
Below details will give you a quick idea of when to post on which platform:
Twitter – Sunday – 1 PM – 3 PM
Facebook – Weekdays – 6 AM to 8 AM & 2 PM to 5 PM
LinkedIn – Tuesday – 10 AM to 11 AM
Blogs – Saturday – 10 PM to 11 PM
Gain better response to your posts by following the above guidelines and experience a positive change in the number of 'likes', 'retweets', 'shares' etc. and thereby better branding and conversion rates.