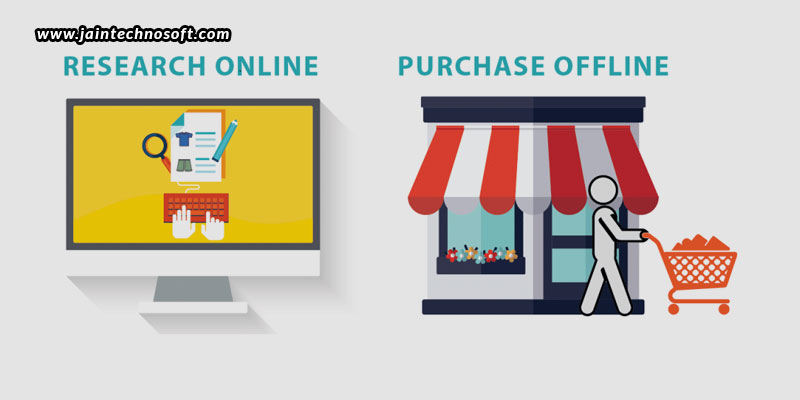 We have seen how online shopping has been boosting up ever since Flipkart introduced its eCommerce store back in 2007. Although it wasn't a sudden shift, but the previous years has seen more of online purchases for all kinds of products – may it be apparels, cosmetics, furniture, electronics, smartphones, or anything else. This has definitely made sales in brick and mortar stores go lower. However, the popularity of online sales hasn't yet brought down the offline sales percentage to a single digit or zero. While online shopping is becoming the latest trend, offline sales are still happening. In fact, there are many who still believe in shopping only from offline stores. Though, these offline purchasers do rely on online advertising to make their offline sales! They go online to look for products, understand their details, compare them with other products, and decide on what they will be buying. But, when it comes to actually buying, they will go to the nearest physical store. This is what has been termed as "Research Online Purchase Offline" or ROPO in short.
Multichannel retailers have seen how online advertising has greatly impacted offline sales, which is why they have gotten deep into ROPO reporting. This analysis helps them see the volume of in-store sales that have been influenced by online ads. Facebook has taken the internet world by storm already with its ROPO reporting field, leaving the search giant Google in its wake!
With ROPO, measuring offline value of both SEO and PPC activity online is really easy. To create a ROPO report, you must have a digital touch point in-store. It could be an e-receipt or a warranty system. This will give you data about your customers' offline conversions that you can match with the online advertising activity. Speaking of Facebook, you just have to take the data gathered in-store and upload it to the social platform; and the data can be matched with as many people as possible. While it is so easy with Facebook, Google hasn't yet provided a way to simply upload offline conversion data and match it against people who have seen the online ads.
However, ROPO reporting definitely cannot reflect 100% of all in-store sales influenced by online ads. This could be because of various reasons – customers may provide different email ids on Facebook and in the physical store; or they may click an ad on a desktop and open their e-receipt on their smartphone; or anything else. While ROPO reporting isn't 100% accurate, but it definitely indicates the influence of online ads over offline sales. Although you can't get an exact figure for every ROPO sale, but you can definitely get an idea of the proportion of offline sales impacted by online activities. And, by applying these proportions to overall business figures, you can significantly work out a strong estimate for metrics like offline ROI.
So, if you want to start off with ROPO reporting to reap amazing benefits, get in touch with a company offering the most professional digital marketing services in India. And, remember that you need an in-store digital touchpoint, as this is what will be the bridge between your online advertising and offline conversion data. So, if you are not offering e-receipts yet, its time you start considering them!