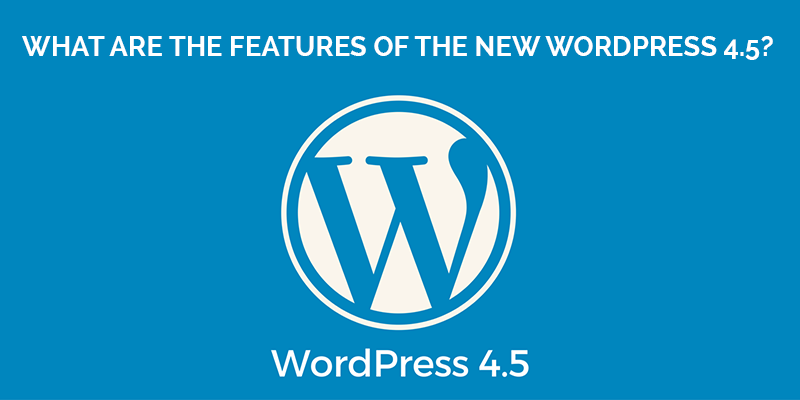 WordPress 4.5 named as "Coleman" in honour of jazz saxophonist Coleman Hawkins is out and available for download or update in your WordPress dashboard. Writers, editors, designers and developers all around the world are rushing to update their themes and plugins.
What is different about WordPress 4.5?
There is nothing radically different with the new features incorporated in WordPress 4.5 but, they help streamline your workflow, whether you are writing or building your site. This isn't the biggest update ever but, small quality updates are here to make customizing your site, editing text and logging in easier. So, what's different about WordPress 4.5? There are a few things like selective refresh, better editing of inline links, better shortcodes, native support for theme logos, better script loading and better image compression that can be used by a proficient WordPress web development company to give you a better developed WordPress website.
What features are included in WordPress 4.5?
Selective refresh – The Customizer is also a bit faster now, where it has the ability to selectively refresh some elements of the content and the theme. Every change you make will not require a full refresh of the page.
Responsive preview – You now get a responsive preview function with the Customizer. All you have to do is click on the device icon for desktop, mobile or tablet and see your site shrink or grow accordingly.
Adding logos – WordPress developers have been waiting for the day when they can just drop their themes into WordPress and design the entire site live with Customizer. This day seems to be getting closer now. You can now add custom logos in the Customizer, the support for which needs to be defined in the theme itself. For this, you will need to use either the Twenty Sixteen or the Twenty Fifteen theme in the Site Identity section of the Customizer.
Visual editor – The interface for adding links is now online Medium-style with the visual editor. Hitting Ctrl-K will provide you with a tooltip with an input field, which is lesser distracting than a modal window. The visual editor also has two new text formatting shortcuts – three dashes will add a horizontal line, and you can now use the 'code' tag.
Image resizing – The ImageMagick settings for resizing images have been improved. The default image compression has been brought down to 82 from 90, which reduces file size by a significant margin which loads up to 50% faster with no noticeable loss in quality. You can now strip extraneous metadata from the images to reduce file size.
Script loader – There is better support for script header/footer dependencies. wp_add_inline_script() will enable adding an extra code to registered scripts.
Embed Templates – Embed Templates have been split into parts and can be overridden by themes via the template hierarchy.
JavaScript Library – JavaScript Library updates include jQuery 1.12.3, jQuery Migrate 1.4.0, Backbone 1.2.3, and Underscore 1.8.3 bundled together.
Log in with email address – You now need not worry about remembering your username because you can now log in to WordPress with your email address instead of your username.