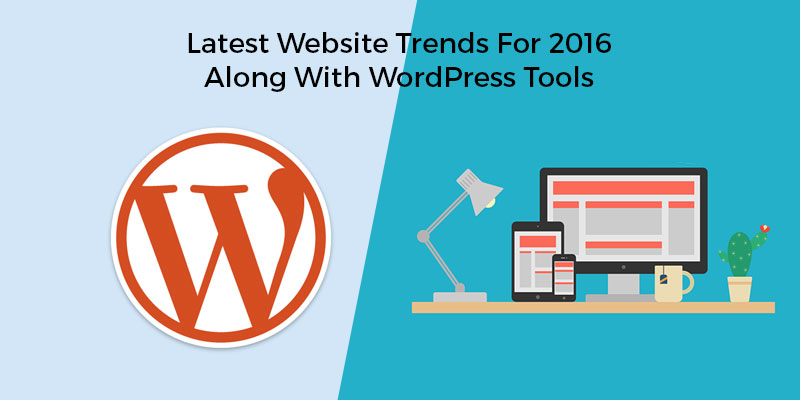 If you have a business website, it is important that you follow the latest web design trends and implement them on your site right away. If you are looking for some guidance, here are some design predictions and WordPress tools that will help you make the relevant changes to your website for achieving success this year.
Lots of visuals
The year 2016 is looking forward to websites with lots of visuals like galleries, slideshows and beautiful layouts. Whatever kind of business you have and whatever content you provide, your website needs to be visually appealing. The best thing you can opt for is the WordPress Portfolio Gallery theme, which displays your content in the most modern and visually appealing way. With many different customizable layouts and a list of widgets for displaying your content, this theme lets you display your website posts with the details and images in a lightbox and lets the visitors see a preview of the post before they come to read the entire page. You can also use the pre-installed page templates for different pages like login, contacts, search and blog pages with this fully customizable theme.
Infinite scrolling
One of the other latest techniques this year is infinite scrolling, which has been highly seen on social media platforms like Facebook. More and more websites are adopting this unique feature to enable a part of the site to load quickly, while more of the page loading as and when the user scrolls down, in order to retain the interest of the users without having them to wait for the entire page to load at once. The Instagram Feed WD plugin enables you to add multiple Instagram feeds and hashtags to your website and includes the infinite scrolling option.
Font styles
With the latest Google font updates, it is no more necessary to stick to popular and easy-to-read fonts. You can now choose font styles and sizes for your website the way you want. Fonts can have a great impact on the design of your website. The latest trends advised for the year include bright and bold colours. Use the Easy Google Fonts plugin that integrates more than 700 Google font options. This plugin is compatible with any WordPress theme without any need for coding skills. Integrated with the WordPress customizer, you can also preview the typography changes that you have made in real time.
Slides
Include slides on your website with different transition effects. Add images, videos, text, hotspot and social button layers to your slides to help your website look more attractive and provide more information on the topic your post is about. You can also embed media from YouTube, Instagram, Dailymotion, Flicker or Vimeo. The latest tends this year will include Parallax, Carousel and Filmstrip effects. Use the WordPress Slider WD, which is a multifunctional slider plugin that can help show your slides in the most attractive way while completely meeting the requirements of responsiveness, which still stays in trend because of the increasing number of smartphone users every day.
Social media platforms
The usage of social media platforms is rising constantly day by day. In order to achieve success, you need to focus on social networks because social media has been a major source for engagement of users. This can be one of the most effective ways of spreading and sharing your blog. Use the Simple Share Buttons Adder plugin from WordPress, which helps you share content across different social networks easily. Give your share buttons the look you wish to with this highly customizable plugin that provides all kinds of colours and customization options. You can also track share clicks and display sharing counts on your buttons. Moreover, this plugin is responsive, thus helping your sharing buttons to fit any screen size appropriately.
Follow the above mentioned tips for an up-to-date website so that you can have a positive impact on the visitors. Hire the best WordPress web development company to make use of the best WordPress plugins and themes on your site.