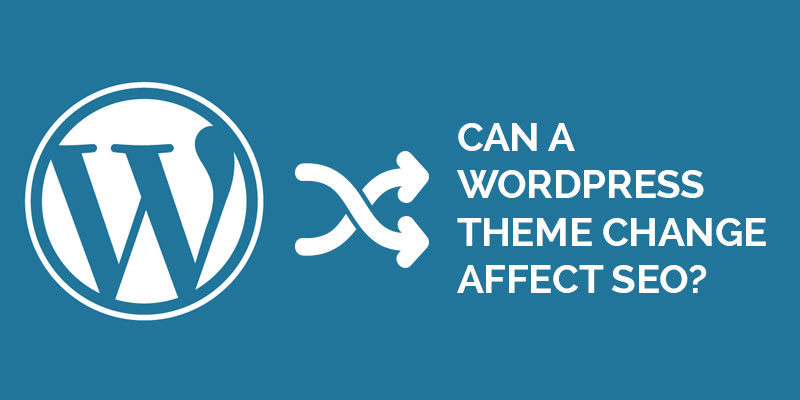 If you are bent on using free WordPress themes, you are likely to keep changing your theme very often. And while doing that, you may or may not have noticed that the change is affecting your site's SEO and traffic. Obviously, every individual change and individual case has its own effects but, you must always be on the lookout.
What issues can be faced while changing WordPress themes?
Generally, when WordPress themes come with built-in SEO options, and if you use the theme's SEO feature, the change may affect your blog's SEO. And, if you are using an SEO WordPress plug-in to take care of your blog's SEO, you may retain your overall SEO but, only if your new WordPress theme is SEO optimized. The two most specific issues faced during a WordPress theme change include –
When you change your WordPress theme, it is likely that the change affects your old custom settings. Changing from an old WordPress theme to a new one might lead to loss of theme-specific features. Either your new theme offers such features, or you hire a WordPress web development team to customize the theme as per your requirements.
If you change your WordPress theme and you are using H2 tags for post titles, or if your post titles are hyperlinked, it will affect your overall search engine ranking. The best SEO optimized WordPress themes are at the top because of their proper heading tags, clean codes and because they take care of every small SEO requirement. When you make a shift from one good theme to another, there is not much to worry about. But, when you plan to shift to a brand new theme, you need to be ready to have a theme that is not as SEO optimized as the previous one.
How to change a WordPress theme while keeping the same ranking?
The first and foremost thing you must do while changing your theme framework is to take a complete backup of your blog database and theme, after which you must migrate all SEO data to a plugin.
Choose an SEO friendly theme
Out of all the amazingly beautiful WordPress themes available, majority of them lack basic SEO features. You need to make sure you pick an SEO friendly theme that has bug-free codes. After shifting your WordPress theme, you can use tools like SEMrush or SEO Spider to check for any errors. In case of any errors, you need to make appropriate changes to your new theme or change the entire theme to a better one.
Whatever you do, there is always a little effect on the crawling of your site, which results in a slight change in ranking and traffic, if not much. However, you can always fix any SEO issues with a proper SEO audit. But, it is recommended to stick to a single theme for a long time because shifting from one theme to another frequently will affect your site's branding. Moreover, you may miss out on spotting SEO changes many-a-times, so it may take a while before you see any difference; unless you hire some proficient SEO services in India to keep a close watch over your site.