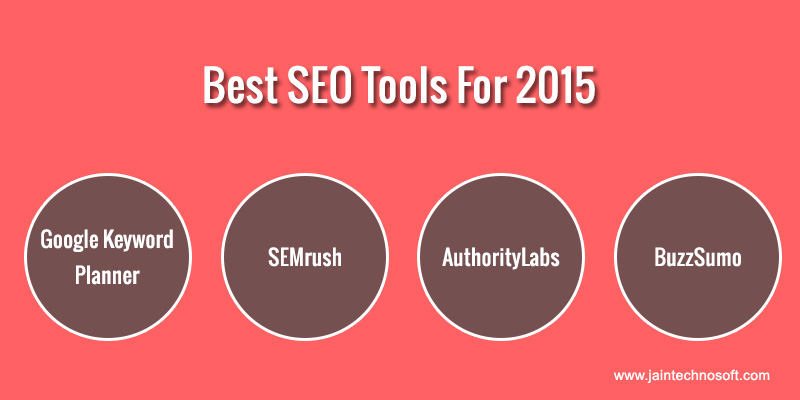 Search engine optimization (SEO) is one area which keeps evolving every passing year. Each year one sees a number of changes in the SEO techniques as well as launch of a several SEO tools in order to make the websites more SEO friendly.
Here is a list of some of the best SEO tools for the year 2015:
Google Keyword Planner
Any SEO strategy is incomplete without the right keywords. Google Keyword Planner is like a workshop for building new Search Network campaigns or expanding the existing ones. It is a free AdWords tool which helps you search keywords, get historical statistics and see how a particular list of keywords will perform.
With this tool you can plan your search network campaigns and search what your customers are looking for. Thus whether you a novice or a professional in online advertising with Google Keyword Planner, you can launch successful online campaigns.
SEMrush
SEMrush is a tool with which you can research on your competitors' keywords and also find the keywords which drives traffic to any website. Along with this SEMrush helps you know the position of each keyword in search engines, volume, CPC as well as the corresponding URL on which the keyword is driving traffic to. Thus this is one of an essential search engine marketing tool that every serious Blogger and internet marketer should have in their SEO tool arsenal.
AuthorityLabs
This is a premium keyword tracking tool which provides you with accurate and reliable search engine ranking data along with in-depth insight on keywords. Not only is this tool fast and accurate, but it also comes with a very simple interface making it user-friendly.
With AuthorityLabs you can get the historical data of whichever keywords you want, export keyword ranking report as avail the white label keyword reporting. You can check the daily rank provided on all accounts, track local as well as global result as well as track your competitors' domains in order to get valuable insights and plan your SEO strategy accordingly.
The best part of having this tool is that it comes with a complete free trail for one month. Thus based on your experience you can decide whether you want to buy it or not.
BuzzSumo
Though many see BuzzSumo as a social media tool, it is in fact is a SEO tool. This tool helps you analyze what content performs best for any topic or competitor. Thus with this tool you can search visual, social and blog content for your website. You can quickly identify which content is working well for a particular industry and also the major influences on it.
Its visually simple and compelling data displays, help you to market your content effectively as well as build better SEO campaigns.
Google Speed Insight
The speed with which your website loads plays a very crucial role in better SEO rankings. With Google Speed Insight you can easily keep track of the site loading speed on the desktop as well as mobile. This tool helps you find the speed errors and by fixing it you can easily boost the loading time of your website.
These are the best SEO tools for the year 2015. Use them and see a positive change in the way your website performs as well as ranks in the search results.