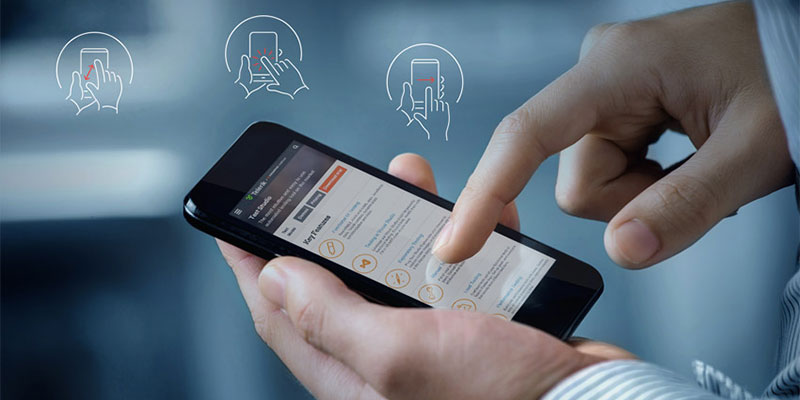 Today, as we know, people are finding smart phones really convenient not only because they are smart but also, because of the highly convenient touchscreen. But, what is the process behind the touchscreen concept? It is the gestures that we use. After mobiles and tablets, now even laptops are working on the touchscreen concept! With this new age of user interface that prefers a more direct form of interaction, it is highly important to focus on gestures.
What are gestures?
Gestures are the base of how users interact with mobile devices. They have two different features – touch mechanics and touch activities. Touch mechanics relates to what the users do on the screen with their fingers – tapping, dragging, swiping, etc. Touch activity is the result obtained as a result of touch mechanics like selection, app opening, zooming, etc. Although users are least concerned with the distinct difference between the two because they are only concerned with what outcome they get but, designers need to concentrate on all these aspects in detail.
What are the different types of gestures?
There are a lot many gestures that users make on their mobile screens. Some of them are very common like tapping, swiping and dragging while there are many others that are formed by a combination of two touch mechanics together, some of which users are not even aware of. Here you can know about the many touch mechanics in detail.
Tapping
The most common and basic of all gestures, tapping is when you simply touch an element on the screen, which requires you to press on finger and lift it immediately. For example, to open an app.
Double-tapping
Double tapping is tapping the screen twice immediately one after the other. For example, to zoom in on a photograph on screen.
Swiping
Swiping is another popular touch mechanic, which requires you to press down your finger, moving an on-screen element and lifting your finger. For example, to unlock your lock screen.
Flinging
Flinging is nothing but swiping at a faster speed. For example, to get rid of someone's profile image that you clicked in your Twitter app.
Dragging
Dragging is also another form of swiping in a way that you select an element on your screen with a long press and drag it to another place on your screen. For example, to drag an icon from one place to another.
Long Pressing
Long pressing is when you press your finger down on an element for a longer moment than when you simply tap, and then lift up your finger. For example, to open the copy box for copying a section of written content.
Pinch
This is another touch mechanic for zooming in our out on your mobile screen. There are two different techniques – pinch-open is for zooming in by pressing with two fingers at a single place simultaneously, moving your fingers away from each other and then lifting both the fingers; and pinch-close is for zooming out by pressing with two fingers at two different ends on screen, moving your fingers closer to each other and then lifting both the fingers.
Rotation
As the word says, this technique is used for rotating an object. For this, you will have to press down with two fingers on the object, orbit your fingers around it and then lift both the fingers. For example, to understand your orientation better while using Google Maps.
Swiping/Flinging/Dragging with two fingers
You can tilt or pan by using two fingers on your screen by tapping, moving and then lifting them up. You can use this technique to also choose multiple elements on screen.
It is important that designers ensure to use minimal actions in the most efficient and intelligent ways possible on a limited screen space, and create mobile interfaces and experiences that users will love.