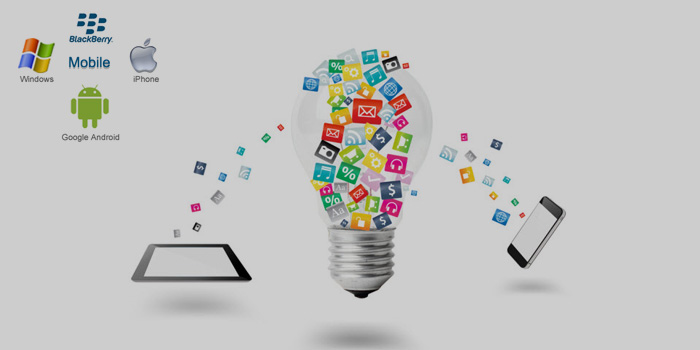 As more and more people use mobile phones for internet browsing, shopping and other activities – it has become critical for almost all companies to have a mobile app of their own. At the same time most companies across the globe face the classic problem of "build versus buy". That is whether to build the mobile app in-house or whether to outsource it.
Today outsourcing is not a new thing, from product fulfillment; marketing to human resources… several things are being outsourced. The boom in the mobile smart technology comes with lot of opportunities for the software developers, resulting in its outsourcing as well. So in case you are thinking of outsourcing mobile app development then there are few things which you need to keep in mind in order to get an app while selecting the company/ software developer.
Jain Technosoft is the leading mobile apps development company in India. Based on our experience and knowledge we present you some points which need to be considered whenever you opt for outsourcing your mobile app development. They are:
Effective Communication
Effective communication is the first and perhaps the most critical requirement for any successful business. So it is in the case of outsourcing mobile app development. As the hired developers/ designers are not near you, it becomes even more important to hire the services of a firm or contractor which has a good record of providing easy and constant communication. There have been several cases where the app developers have not delivered the right product due to lack of or rather inadequate communication between the two parties. On the other hand, constant communication, discussion and suggestions via conference calls and emails help you get the product you were looking for. Thus see to it that the firm/ developers you hire can be easily communicated with.
Right Skill Set
It would be a waste of your time and money if the developers you hired do not have the required skills to develop an app. See to it that the people whom you are hiring are actually capable of coming up with solutions that they claim. Go through their past projects, you can even get in touch with their clients in order to get a clear picture of firm's/ developer's work culture and skill set. In case you want to include a particular feature in your app, then do find out if the developer has the level of competency in that particular skill set. Hire anyone only after you are satisfied that all your requirements will be fulfilled.
Adequate Resources
This again is a very crucial thing to keep in mind, whether those you are hiring have ample resources to handle your development needs. Right from having time for your requirement, to handling back-end as well front-end development and also UI, the firm you hire should have sufficient resources to take care of all your requirements. You can check how much time did they take to finish their earlier projects and get in touch with the clients to get first-hand knowledge of the whether they met the expectations or not.
If these few initial checks are in place, you can surely expect the mobile app which you have visualized. In case you need more information on mobile app development, feel free to get in touch with us. Our expert team has developed mobile apps for iPhone, Android, BlackBerry as well as Windows based phones. We are one of the best mobile app development companies, when it comes to both iOS application development as well as Android application development in India. Hire our services and get the best mobile application for your business.