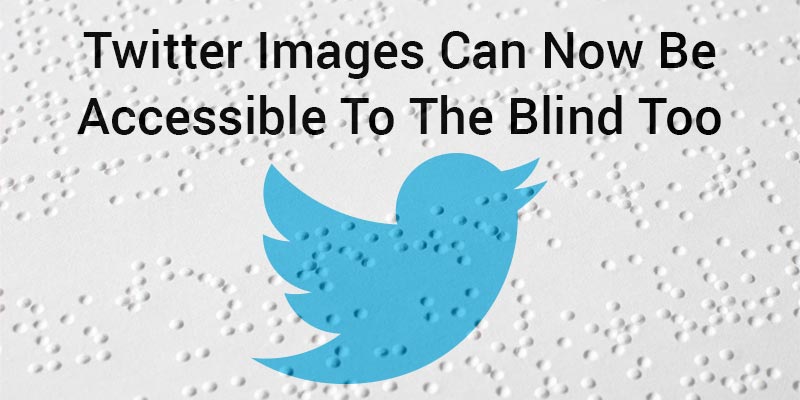 Webmasters are making their websites look beautiful and attractive. Social media platforms are making their designs easier to navigate, without breaking the rule of a delightful visual appeal. Advertisement owners are designing ads in a way that it captivates the eyes of the viewers. All this is done to visually attract the users. But, what about those who are visually impaired? Ever thought about them? How do they feel? What do they expect? No, right? But, Twitter does! And, that's the reason Twitter has made its interface friendlier to those who are visually impaired and blind.
On its 10th anniversary, Twitter announced that it is making images on its platform accessible for everyone. Pictures are at the core of Twitter's micro-blogging experience. So, the company wants those who are visually impaired to also be a part of this wonderful experience. Until now, the blind have been able to use software to translate the text of tweets into audio or braille but, images had been left out. However, Twitter's latest update now solves this issue.
Twitter now allows users to add text descriptions to the images that they share. They can write a short caption along with every image, with a character limit of 420 characters, which is considerably longer than Twitter's current limit for its tweet text! In a blog post, the company stated that "In 2006, when Twitter was a text-only service, its content was easily accessible to people who were visually impaired. Over the years, we've extended the platform to support a range of media, but we haven't provided our users and developers with the tools to provide alternative text to images in tweets."
In order to use this alt text feature, users will have to go to the app's Accessibility Settings and select the Compose Image Descriptions option within the menu. After enabling the option, they will have to tap the Add Description button next to the thumbnail in the composer, and they can add their description there. Visually impaired and the blind will then be able to 'see' the description with the help of screen readers or braille devices.
Twitter has also extended this feature to both REST API and Twitter Cards, giving third-party clients and publishers a chance to add descriptions too. This is important because there are Twitter apps that have been specially designed for the visually impaired, which include EasyChirp, Chicken Nugget, and The Qube. It is difficult to imagine that users will be willing to spend their time to add descriptions to their images but, this feature is highly beneficial to developers and publishers. Those who run large accounts for brands, businesses and publications will be able to reach a wider audience with this feature.
However, this redesign is available only for iOS and Android platforms, and nothing has yet been disclosed whether this feature will be rolling out for desktop or not. This makeover makes the platform accessible not only to the blind but also to search engines, for whom image content is one of the features they consider for ranking.