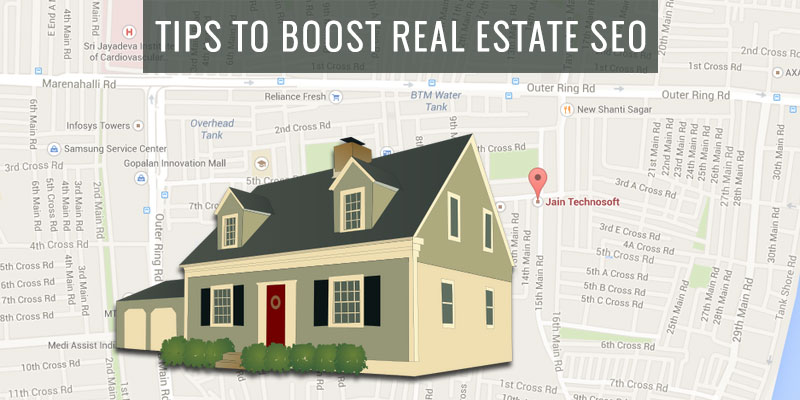 If you are into real estate business there are high chances that you are looking for ways in which the rankings of your website can be improved through search engine optimization (SEO).
Your internet marketing strategy should cover all the basics required to come up with an effective SEO plan for your real estate firm. Here are some of the very important tips which will go a long way in boosting the online presence of your real estate business.
Focus on local keyword/ phrases
This is a very important tip. It is essential that you target the local keywords or phrases in order to make the right impact. Though many realtors service multiple cities and regions, we recommend that you first focus on the prime city/ region where you do your business. You need to optimize your website as follows:
(Name of City) Real Estate
(Name of City) Realtor
(Name of City) Real Estate Agent
(Name of City) Real Estate Listings
(Name of City) Home for sale
Capturing local traffic is sure to reap you better SEO rankings and increased conversion rate. Thus targeting the local keyword should be your first step to get better SEO results.
Come up with informative blogs especially on Homes you aim to sell
Blogs are one of the best ways to bring in more traffic to your website. It also helps in building of back links which will further boost your SEO results. You can in fact come up with a series of informative blogs on the kinds of homes/ apartments you wish to sell. This way you are not only targeting a specific property, but also educating the visitors on your website about the various kinds of properties you sell. Make it a point to include the important keywords in your blogs to get better SEO results.
Include pictures and videos in your Website as well as Blogs
Apart from aesthetic reasons, pictures and videos give a real and clear picture about your property to the visitors on your website. Pictures and videos are critical for every real estate website. Opting for video tours is one of the best ways to attract attention of your prospective clients and also fetch in more traffic to your website.
One of the best internet marketing strategies is to get video testimonials from your satisfied clients. This surely will have a positive effect on your prospective client group.
Get listed in Real Estate Directories
One place which gets a lot of traffic is real estate agent directories. Thus is highly recommended that you get listed in some of the best real estate directories. This is sure to help you in attracting potential clients and bringing more traffic to your website. Some of the best real estate directories are:
indiarealestatedirectory.com
realestateindionline.com
commonfloor.com
Optimize your website for Mobile
With increase in the use of smartphones, the need to optimize your website for mobile phones is no longer an option – but a necessity. Your SEO strategy will surely see a boost if your website is optimized for mobile phones.
These are some of the essential tips which you need to follow in order to drive more traffic and increase conversion rates on your real estate website. The real estate has surely seen a lot of innovation recently. For example real estate sites like indiaproperty.com and housing.com provide a 3D virtual tour to visitors on their site. This surely in one of the best ways, not only to attract prospective clients, but also make a unique mark of your own in the real estate scenario.