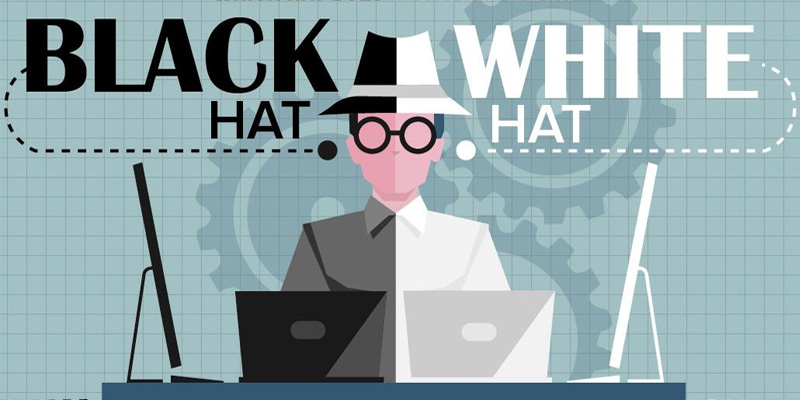 Optimized websites get a higher chance in ranking higher in search engines results pages. This is why every web master wants to optimize their website as fast and easily as possible. Some abide by the rules and some do not in order to optimize their sites. There are many different philosophies and different paths that can be followed for optimization. There are two major methods that are followed in the battle for online visibility, i.e. black hat SEO and white hat SEO.
What is Black Hat SEO?
This method refers to the unethical use of those strategies, techniques and tactics that focus only on search engines and not on the users. It breaks the search engine rules and does not obey the guidelines in order to gain rank quickly.
Black hat involves a wide variety of practices like link buying, keyword spamming, link spamming, robot posting, cloaking, deceptive redirects, duplicate sites and many more. These tactics are good at tricking the search engines but not for long. Once they are caught, the search engines ban such websites.
What is White Hat SEO?
This method refers to the use of those strategies, techniques and tactics that focus on users and not on search engines. It completely abides by and follows the rules and policies that the search engines regulate in order to build a long lasting high rank.
White hat involves ethical practices that adhere to the SEO Code of Ethics. It involves using relevant keywords, creating good content, inbound links and frequent updating. In brief, they optimize their content for both the search engines and the users.
Which method is overpowering the other?
White hat requires lots of effort and time; and its strict rules and guidelines are not easy to follow, which is why this method is not preferred by all. White hat brings very slow results in traffic and search engine rankings as compared to black hat. People are ready to pay huge amounts to get their websites ranked higher and the best way to do this is by going unethical with black hat.
On the other hand, the traffic driven or rank obtained through white hat lasts longer and hence there is no risk involved of the website getting banned at any time. White hat is free while black hat is very expensive. The effects received from black hat are only for a short period of time, which will later be nullified by banning the website.
For marketers, the method used is not as important as driving traffic to their website. But once found, most search engines resist black hat tricks and ban those sites.  But, white hat values will always prevail, creating long-term credibility and quality content for the users.
Jain Technosoft, one of the leading SEO companies in India, will help you increase your website traffic, and improve the conversion rates and visibility on the net. They ensure that your website stays on top of organic search ranking for longer period.