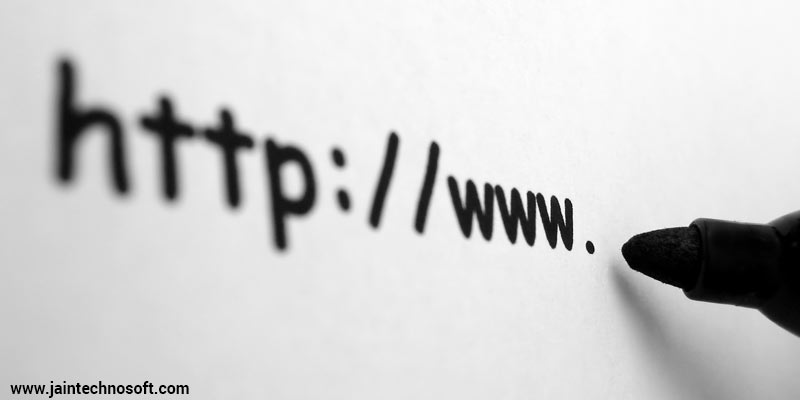 A URL (Uniform Resource Locator) is a reference to a source that specifies its location on a computer network and a method to retrieve it. A URL has 5 basic elements, which are as follows:
https:// or Hypertext Transfer Protocol is the foundation of data communication for the www, i.e. World Wide Web. https:// is the only element that cannot be changed in any way.
Domain or sub-domain is an address assigned to internet web servers.
Domain extension, where the most common one is .com. Other extensions that are available are .org and .net. Universities that engage in education have an extension of .edu and local business websites have an extension that relates to their particular country, for example, .in for India, .au for Australia and .uk for United Kingdom.
Category is a website's subfolder. For two different product categories, there should be two different pages for each.
Product is the actual page that relates to the user's search. It is the final destination that the user would want to reach.
Combining the above elements, a URL will be in the following format: https://www.domain.com/category/product
Ranking in Search Engines
URLs describe a site or page to visitors and search engines. Hence, it is very essential to keep them relevant and accurate. The URL of a page is an important part of SEO and so, the words and keywords used in it should be very carefully selected and placed.
In order to achieve a high ranking in SEO, you must consider the following points:
URL should be descriptive and short with relevant keywords
A website has lots of products and categories, which leads to several pages. In order to direct the users and search engines to the correct page, the URL must have relevant keywords placed correctly along with it being descriptive and short so that it is easy to remember and understand. It must be sufficiently descriptive so that on seeing the URL, users are able to get an idea of what the page would be referring to. Keywords should not be repeated anywhere in the URL. A URL, if longer than 2048 characters, will be unable to load with Internet Explorer.
URL should have hyphens instead of underscores
Search engines are not yet programmed to consider underscores as word separators. Underscores in URLs are neither SEO-friendly nor user-friendly. Thus, it is recommended to use hyphens to separate words instead of using underscores, spaces, or any other characters. Also, limit the number of hyphens you use in a single URL because over usage of hyphens can be misunderstood for spam.
URL should not have capital letters
Capital letters baffle users as well as search engines. Adding capital letters makes it hard to remember the URL.
Original URL vs duplicate
Duplicate URLs may be created unintentionally by session ids, affiliate codes and sorting options. In order to overcome this issue, you may either add a canonical tag to the duplicate URL or add a 301 redirect to the original one.
Do not index irrelevant pages
There are a few pages that should not get indexed by search engines, for example, the "Terms and conditions" page, since such pages don't contain the relevant keywords. The robots.txt file contains instructions for the search engines as to what pages of the websites should not be indexed.
Highlight mobile-friendly URLs
Mobile friendly pages are likely to get a higher rank in search engines since mobiles are now widely in use.
Upload a Favicon
A favicon is a small icon that is placed next to the URL. Although it is not very essential but, some search engines have started considering favicons as a beneficial factor because favicons build brand recognition and trust.
Considering the above mentioned points, construct a URL in such a manner that it makes its way to a higher ranking in search engines. Jain Technosoft is one of the leading SEO & web development companies that can help in getting you the best organic SEO results for your website.