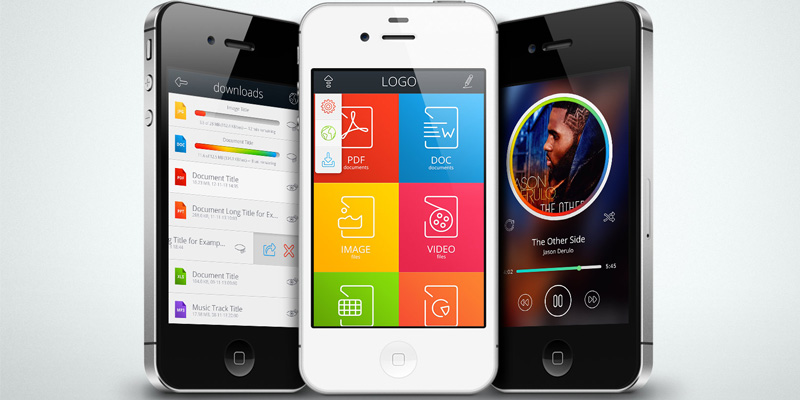 With App Store and Google Play coming out with some of the best apps for mobiles almost every other day, it is interesting and at times even confusing for mobile app developers to narrow down their choices and choose the trends which they need to follow.
Having analyzed various mobile trends, we bring you some of the best trends which you should not only follow, but which also helps you learn something new.
Simple User Interface
Nothing can beat simplicity, and when it comes to mobile apps the simpler it is the easier it becomes for the end-user. Today all major apps have taken to simplicity in their web design. Mobile app developers have understood that simpler user interface (UI) is easier to digest. Minimalism and cleaner designs are the rule of the day. In fact apps which are easy to scroll and scan, and has a lot of information to offer are instant hits among the user.
Colors
Usually colors have been a part of design by default. Colors do play a crucial role in affecting the overall experience of an app as it sets the mood for the user. In fact colors to a large extent also define the personality of the app – elegant, friendly or fun. Due to this point, the recent apps have started using colors as the basis of their design rather than just accents. This is one trend which is here to stay. We would in fact recommend, mobile app developers to pay good amount of attention to color selection and embrace various hues and shades for their apps.
Easy usage of photos
Photos are one of the widely used elements in most apps today. They are no longer just design elements; rather serve as content as well. With the onset of digital photo trend, photos have become a fascinating trend as the end user can easily personalize it. That is the user can easily edit pictures according to their need and upload them as their own profile page. Today there are apps which enables the users to fill text, edit in a fun manner and improve the picture altogether in an innovative manner. Using photos within the apps has surely become a powerful tool, and it makes sense if your mobile app development strategy takes this point into account.
Innovative app ideas
After simplicity, it is surely innovation which matters a lot for any product to be successful. The same rule applies in case of mobile apps too. On a closer analysis we come to know that none of the apps are totally new or unique. But what makes a regular app stand out from the rest is the manner in which the app developer has leveraged an idea. The idea can in fact be a very simple one – may be from changing bright screens to a new app design. We recommend that as an app developer you keep innovating and experimenting with ideas. This is one of the best ways to create trends, rather than just following some of them.
Good Ambience
Yes… you read it right. Has it ever occurred to you that the ambience of your app does matter to the end-user? So the next time when you are building an app, make sure that its ambience is as good as that of a popular restaurant.  Your app should in fact be designed in such a manner that it provides comfort and ease to the end-user. Or else there are high chances that it will lose out its popularity.
So these are some of the very popular and at the same time very powerful mobile trends this season. If your apps are missing any of these points, then this is the right time to revisit it and add these features to it. Trends for sure not only reflect what is popular among the masses, but also teaches us what exactly the end-users are looking for.