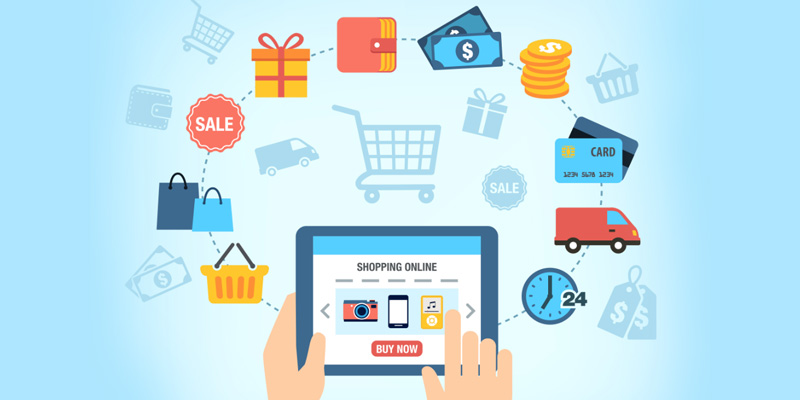 With so many eCommerce websites across the Web, do you think it's easy to have your website found? You need to be seen and make sure that people admire you so that they consider you for another visit. Consumers are depending more on online purchase than offline shopping today, and you need to satisfy all their needs if you want to stand apart from the crowd. This is where you need the best eCommerce platform and the best eCommerce Web developers to help you launch your business. But, remember that you need to launch your business in a way that your website meets the user requirements and brings a great online user experience too. Listed below are some of the best platforms that offer a wide range of themes and options to build a great eCommerce website for your business.
Shopify
One of the best solutions for an eCommerce store is Shopify, where you can get a working core platform right away. All you need to do is change the colour as per your liking, edit the text, upload pictures and put up the prices – that's it! This simplicity comes with cost-effectiveness, speed and versatility. Moreover, you can even optimize your store for mobile and tablet too! Shopify helps with online and offline payment through multiple gateways by integrating with PayPal, and also helps in cash on delivery, credit/debit card payments and bank transfer.
Magento
This is one of the most popular eCommerce solutions for big and small businesses, which can be downloaded and installed for free. It comes with so many powerful features that it needs to be hosted continuously. However, other than experts, even beginners can use it conveniently. It has a user-friendly admin area that helps to set up a basic store very easily, where you can fit in products ranging between 100 to even 1,00,000! With Magento, there is a lot that you can manage and do –
You can optimize your site for mobile.
You can easily handle customer service, coupons gifts, etc.
You can manage your inventory and handle shipping charges easily.
You can receive payment through various gateways.
You can have built-in SEO support and newsletter management.
However, with all these great features, one drawback is that the backend development requires expertise to manage the complexity of this platform. Therefore, professional technicality is required.
Volusion
This platform has a very easy-to-use interface, thus can be easily used by beginners. It provides more than 300 responsive designs to choose from, along with 24×7 support, and built-in marketing and SEO tools. With an amazing inventory management system, and ability to manage the store through Android, iOS and smartwatch apps, this is one of the ideal eCommerce solutions. Customers can pay through debit and credit cards, as well as PayPal without hesitation because Volusion takes care of complete security along with easy order processing.
BigCommerce
You can effortlessly set up your eCommerce store with BigCommerce and its countless customization features. It helps to easily manage orders, handle products and track analytics, while securing your store with the best security features. With an in-depth insight on analytics and statistics, BigCommerce can also deal with sudden spikes in traffic. It also helps with easy online payment facilities by integrating with PayPal and allowing debit and credit card transaction. Moreover, customer privacy is ensured since the checkout process is taken care of with SSL.
Before you opt for any of the above platforms, it is important that you understand what you need. You need to create a vision about what you want to achieve and accordingly take a step further. If you are not sure of what would be the best for you, you can take assistance from the best eCommerce Web developers around to help you decide on the most appropriate platform for you, as well as build the perfect store for your eCommerce business.