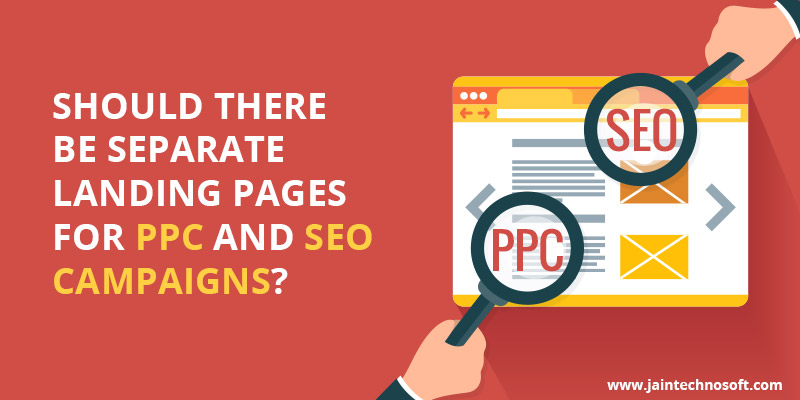 In small companies, where there are limited number of working professionals and a limited budget, there would be a single landing page for both PPC and SEO campaigns i.e. the same page for the same keyword for both paid and organic search. Such companies believe that for the same keyword, there is no need for creating two different pages and increasing the efforts and costs.
On the other hand, in large companies, where there are different teams to handle SEO and PPC campaigns separately, this issue is definitely faced. This is because when there are two different teams working with different approaches, it is obvious that there will be issues in coordination. Both the teams tend to do things differently and have different mindsets, so it won't be easy for them to coordinate completely. In this case, it is better to have two separate landing pages for PPC marketing and SEO campaigns.
Is it better to have two different landing pages?
It is obvious that when you have two different landings pages for one single thing, it only increases efforts and costs. Every time you want to change content for a keyword, you have to do so in two different places, which doubles the cost for one single action being done repetitively at two places.
When there are two different campaigns running, it is likely that you would focus on conversions on paid landing pages rather than on organic pages. You might think that if you don't convert for paying for every click, you will be losing money. But, what you don't understand is that failed conversions on organic landing pages are leading you to lose money too. Thus, there needs to be focus on both these campaigns equally.
After considering the above points, we can say that if we have a combined landing page for both these campaigns, we can focus and work better at reduced costs. But, does that mean you shouldn't have different landing pages? Read on.
What are the consequences faced in case of different landing pages?
You might think by now that it is better to combine the landing pages for PPC and SEO. But, also remember that combining landing pages means perfect coordination required between both the PPC and SEO teams. And, this will require excessive work and compromise. Both the teams will have to understand the effects their actions might have on the other before making any changes.
You have gone through the pros and cons of both the situations. Now, it is for you to decide whether you want to have combined or separate landing pages. If you have individual pages at present, you would want to combine them and see how it works out. Learn how you can start off.
How to take a step towards combining pages?
Check out your campaigns for combined and separate landing pages. See what difference you find. Take a few important individual pages and combine them. Start with SEO landing pages as the base because it is easier and risk-free to change the URL of a PPC landing page, rather than having search engines use new SEO landing pages. Check the results. See if you are converting higher for SEO and improving your quality score for PPC. Is it worth the coordination and compromise efforts? If it is, then good for you, otherwise you are well off with separate landing pages for both SEO and PPC marketing.