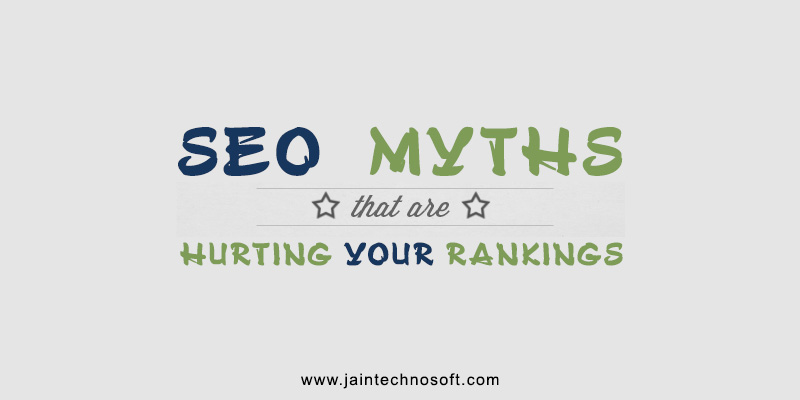 Every area of work has its own sets of myths… myths which are religiously followed and seen as the rule of the day. So is in the case of search engine optimization. In this blog post we bring you some of the most common SEO myths, which are in fact hurting your SEO strategy.
Myth 1: Search Rankings are swayed by Social Media signals
Is not this one of the crucial points of many SEO plans? So let's set the record straight – though social media can help in getting your website faster, it will surely not change your ranking based on how many retweet your content, LIKE your page or are in your circle. And so this is the reason, if your website is among the top ones in garnering social media traffic, yet is trailing behind its competitors in organic search results.
Thus through social media you can share your content with a relevant social audience, as many users will link back to it naturally, it DOES NOT DIRECTLY improve your organic ranking.
Myth 2: Paid search will boost SEO traffic
We are sure many out there are following this myth with utmost devotion. But statistics prove otherwise. A close comparison of different websites of the same industry, show that paid search hardly contributed in a big way in SEO traffic.
Rather websites which saw a jump in their paid traffic saw their organic traffic go down, and vice versa. Thus if anything we can conclude that the paid search traffic and organic traffic are inversely related to each other. Therefore you need to rethink your PPC marketing strategy as a solution for better SEO traffic.
Myth 3: Optimizing Anchor texts with keywords
This used to be the situation in the past, but today this rule is no longer valid. Yet many SEO experts still cling to it. Google prefers links which are natural. Thus it is better to use anchor text like "this article"/ "click here" is far more natural than "best SEO service"/ "easiest cake recipe". In fact such keyword rich anchor text is a clear indicator that the link was built specifically for the purpose of SEO improvement rather than for the benefit of readers. Thus optimizing anchor texts may appear as over-optimizing your website which is one of the most common SEO mistakes.
Myth 4: Link Building is no longer useful
Links which are built through authoritative websites and are earned naturally are and will always be useful.  Never forget that link building from the very start was supposed to be for the readers benefit with better SEO being just an added advantage. Thus we recommend that instead of just chucking link building out of your SEO strategy, work towards building links which are earned naturally. Link building thus is one of the best practices and the single largest factors which determine the ranking of a website.
So the next time you think about why your search engine optimization practices are not reaping the expected results, you just have to check whether you are still stuck up with the above given myths. Getting rid of these myths from your SEO practice will go a long way in helping your website get better rankings.