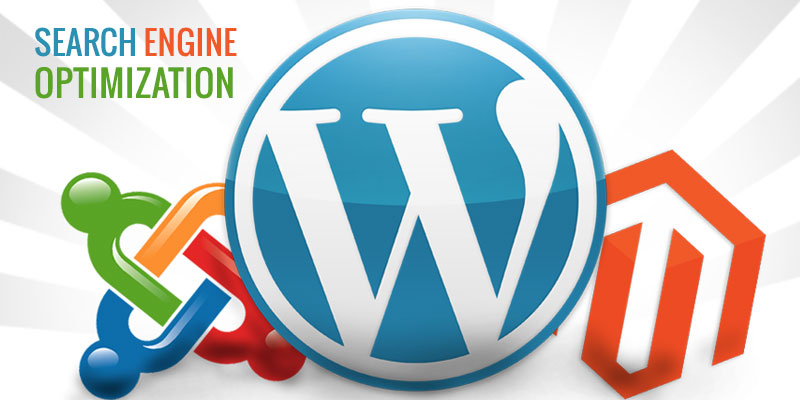 In spite of Magento being one of the popular open source content management systems for e-commerce websites, many Magento based online stores fail to attract enough traffic. It is at this juncture that Magento SEO becomes very crucial. Similarly if your website runs on WordPress or Joomla, but doesn't get enough visitors, you need to start exploring the power of Search Engine Optimization (SEO). If you are looking for ways in which you can improve the performance of your Magento online store or your WordPress blog, then you need to optimize it for search engines like Google, Bing, Yahoo and many others.
Any CMS like Magento, WordPress, Joomla can be made highly productive through proper use of SEO techniques. Having handled several SEO projects till date, our SEO team is well-versed in tactics required to improve the ranking of CMS based websites. We conduct an in-depth analysis and research which helps us understand what is lacking in your website and how it can beat its competitors.
We use only white-hat SEO techniques which will improve your websites visibility on all the major search engines, and more importantly help you stay on the top ranking positions not for a few weeks or months but for a relatively longer period of time.
How do we improve your CMS website ranking?
SEO keyword analysis : With the help of the latest tools we perform a detailed keyword analysis for your industry. We provide you with keywords which your target audience searches for.
Search Engine friendly URLs : We optimize your URLs using perma-links, which includes relevant keywords and choose sensible link structure.
Tried and tested SEO plugins : We use the best WordPress plugins like XML Sitemaps, SEO friendly images, etc.
Search Engine Friendly Copywriting : We shall build your website text in such a manner that appeals search engines as well as your target market.
Link Building : Links play a very crucial role in the ranking of any website. We see to it that we build good number of quality links, which will boost the ranking as well as the visibility of your website. We are experts in obtaining valuable inbound links through various techniques.
Social Media Integration : We link your website to social channels like Facebook, Twitter, Pinterest etc. and also add social sharing buttons to your posts.
XML Sitemap : Through our XML sitemaps it becomes easier for the search engines to crawl and index your content.
Optimized Meta-Tags: Through apt meta-tags, we optimize your page titles and descriptions.
Analytics and Reporting : Through Google Analytics, we collect information on how your website is being used by visitors. Based on the report we fine-tune your SEO and make it even more effective.
Why choose us?
Guaranteed top ranking in all the major search engines
Improved number of leads
Better conversion rates
Brand building
Detailed reporting and tracking of your weekly, monthly, quarterly and yearly traffic reports
Enhance the performance of your Magento / WordPress / Joomla based website with our SEO service. Get in touch with us for a highly customized and effective SEO solution for your website.