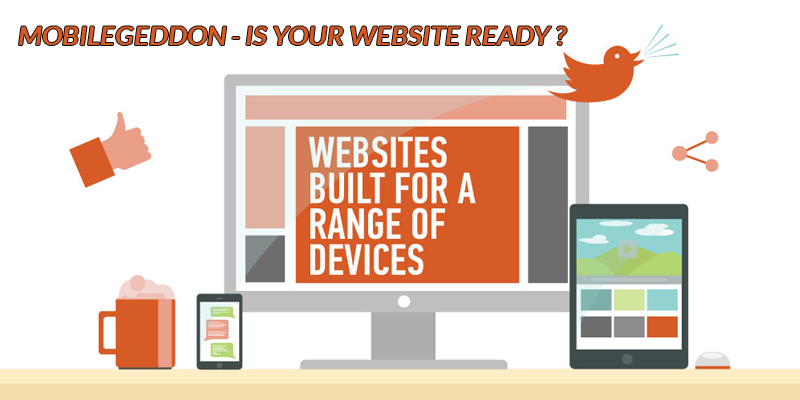 Google has made an update to count mobile SEO practices as a factor in page ranking of a website. Mobiles include only smartphones because Google has always classified tablets in the desktop category. This Google algorithm update, known as Mobilegeddon, has been announced to give priority to websites that display well on smartphones. Google announced this change on February 26th and declared 21st April as the date of implementation.
Websites in order to be mobile-friendly require texts large enough to read comfortably on small screens and fast page loading times. They should be designed such that the users do not need to scroll horizontally to view the content. The most important point is that the website must use plug-ins compatible with all screen sizes and all smartphone devices.
This update brought positive responses to the mobile traffic from the first day itself. Within two days, there was an increase of about 18% in mobile traffic. This increase was compared on the basis of the same keywords being searched for on desktops. This examination was done by selecting about 10,000 common keywords that were searched online. The traffic kept rising with every passing day. There was no particular change in desktop search results but, the mobile searches kept on increasing, where 24th April was the day that saw a very high percentage of mobile traffic.
Moz converted some of its pages to a mobile-friendly design. Within a few hours, the Google search results showed a "mobile-friendly" tag next to these pages, which drove more mobile traffic. Slowly and steadily, the websites that were not mobile-friendly started observing a decrease in the number of visitors in the search engines result pages. According to Search Engine Watch, the statistics showed about a 17% decrease on the first page, about 20% decrease on the second page and about 25% decrease on the third page of Google search results.
On 5th May, Google announced officially that the mobile searches had outnumbered desktop searches and that the update was a success. However, every website saw a rise or fall based on their particular website designs and how they functioned. Some known names saw a fall after the Google update in spite of having mobile-friendly designs, while the others were top gainers.
Search Metrics analyzed the effects by tracking the visibility data of well-known websites. Reddit had lost around 27% of its mobile visibility and 36% as compared to desktop visibility. NBC Sports lost around 28% of its mobile visibility and 40% as compared to desktop visibility. Even government websites like census.gov observed a 53% decrease in visibility as compared to desktop.
While these top names saw a drastic fall, other websites like tvtropes.org gained a 23% increase as compared to desktop results and an awesome 420% mobile visibility! Quora saw a 13% increase in mobile visibility and 28% increase in visibility compared to desktop.
After analyzing all the impacts of this Mobilegeddon, it is said that mobile SEO is the future of search engine optimization because the number of users on smartphones are highly increasing every day. People access almost every website on their mobile phones, may it be their emails or browsing or social media entertainment.
If you are thinking of getting a responsive website design, then you can get in touch with Jain Technosoft, one of the leading SEO companies in India. With a highly experienced team of SEO experts and professional web designers, they will help build a website that will bring you better conversion rates and a positive growth in your revenues.