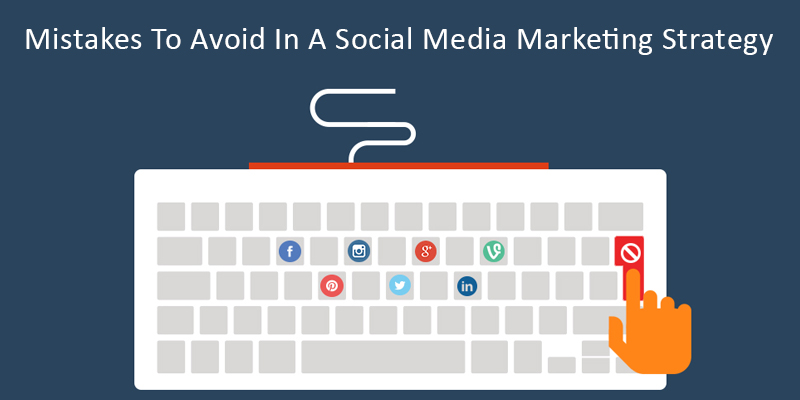 Social media has become an integral part of almost everybody online. It has been analyzed that around 74% of adults are using different social media networking sites today. As it has expanded to help users connect with friends and family worldwide, social media is also being used greatly by businessmen to promote their brands, products and services. Today, more than 92% of marketing professionals are considering social media while planning a marketing strategy.
But, plainly being on social media is not what can prove successful for you. You need to know how to play well in order to optimize your web presence. You can have the best results out of these platforms, provided that you use it in the right manner. Many businesses use social media in incorrect ways, which brings a negative effect on their business rather than building their reputation. Learn what mistakes marketing professionals and businessmen are committing on social media, to know what you need to avoid, so that you don't have a negative experience too.
Too many social platforms
There are a number of social media platforms available where you can promote your business. These include Facebook, Twitter, LinkedIn, Pinterest, Google Plus and Instagram. There are millions of active users on each of these but, you do not need to be present on every platform. You need to focus on those networks that will help promote your brand in the right direction. Choosing the best platform depends on the industry segment you belong to. For example, if you are into apparels or cosmetics for women, the best platforms for you would be Facebook, Pinterest and Instagram. But, if you offer corporate services, then Twitter, LinkedIn and Google Plus are better options.
Repeated promotions of the brand or products
You are definitely present on these platforms to showcase your business and products/services. But, don't overdo it. Apart from providing information about your products, you need to provide additional information to the viewers to keep them interested in you. For example, if you are into real estate, you can talk about your brand and what properties you sell. But, you can also provide the viewers information about how to design their home or how to choose the best location for purchasing a home, etc. This will keep them interested and engaged with you, and will have them looking out for more from you.
Failing to drive engagement with fun elements
Just like additional content is necessary, you also need to provide the users with content that can be fun or visually appealing. Apart from content in text form, you can provide the same information in the form of infographics or provide relevant photos and videos. Add famous quotes to bring in the trust factor. All this increases the likes, shares and tweets on your blogs.
No target market
It is very important to know what kind of audience you want to target and then produce content based on the same. If you just keep posting content based on your thinking, it is of no use. Decide on who you want to target and try to know what this target audience wants from you. Provide content that your viewers expect from you.
Fail to build relationships
Your customers might like your content and tweet or comment on your blogs. Or they might need further information and may ask about it in the comments section. This shows that your users are initiating to engage with you. Now, you need to step forward and reply to their comments and answer their queries to involve further engagement. Many businessmen do not respond to such activities and hence, fail in achieving user engagement. There are also chances that the viewers might not like your content and come up with negative comments. Instead of ignoring or deleting their comments or replying negatively to them, it is essential that you handle them tactfully and improvise where you lack to convert these negative customers into positive ones.
Make sure you are not one who commits the above mentioned mistakes. Learn from them and come up with a strategy that helps you gain the maximum benefits from social media. Also, bear in mind that this is a long-term marketing activity where you need to build long-term relationships and don't expect to see immediate results. You need to work hard and be patient enough to get fruitful results out of your social media marketing. You can hire professionals to help you with your strategies. You can get in touch with Jain Technosoft, which is a leading social media marketing company in India, who has professionals who have been in this field for a long time and know the ins and outs of social media and how to get users involved with your business.