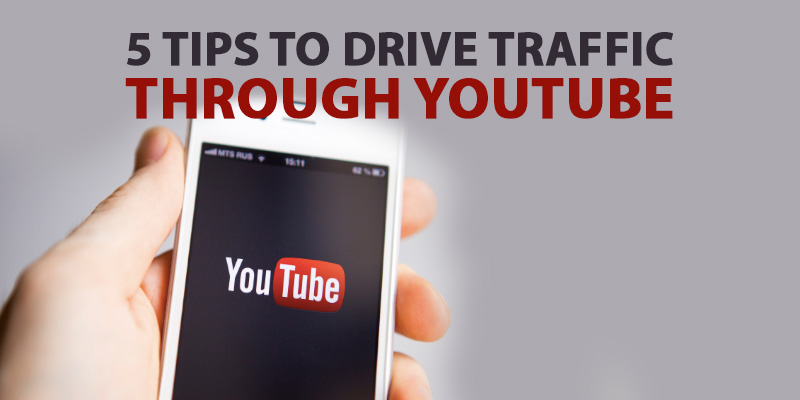 YouTube has become one of the most popular video sites on the web. It has more than one billion users and over six billion hours of video watched every month! Don't you think not posting your video on this site is a big mistake? By posting your video on YouTube, you have a chance of one billion users finding you. If you post the videos perfectly by keeping the under mentioned tips in mind, you will find high amount of traffic coming to your video and it is likely that these viewers will also come to your site to know more about you.
Tell people to visit your website
The easiest way to bring people to your site is to ask them to come to it. At the end of your video, mention your URL and ask people to visit it. Also, state how they will benefit if they visit your site. Let them know what more information they could get on your site that they haven't got from the video yet.
Use the 'Call-to-Action Overlay' feature
YouTube provides a feature known as 'Call-to-Action Overlay', which is a banner ad that is displayed at the bottom of a video. You can provide an image, a title, a description and your URL in the CTA Overlay to compel viewers to visit your site. This overlay appears as soon as the video starts playing. It will just take a few minutes to upload the description on your video and is very beneficial.
Write your video's description
Many marketers do not use the description section of the video while uploading their video on YouTube. But, you must not miss out to take advantage of this feature. You can use this space to let the viewers know what your video is about, and in order to drive more traffic to your external website, you can include a few call-to-actions here, describe about what more the viewers can get to know on your site, and then mention your URL there.
Transcribe your video
A transcript is a text version of whatever is spoken in your video. It is essential for you to transcribe your videos. This gives you two important benefits. First, Google will be able to relate to your video with this transcript apart form the title and tags you use with your video. Thus, it considers the transcript for ranking your page for a particular keyword search. Secondly, it also lets the users understand and connect with your video better. The more the viewers understand you, the more they will connect, and the more they will want to know about you, which might lead them to visit your website.
Reply to popular videos
When you see a video in your own niche going viral over the web, use the opportunity to post your video in its comments section. People who will view that popular video might take a chance to watch your video too. This will bring in a better target audience to  your video. Also, mention the URL of your website along with the video so that people can visit the site if they find your video interesting.
For the best ways to market your business on YouTube and other social media platforms, you can get in touch with Jain Technosoft, a leading social media marketing company, who takes all the steps from developing great content to managing blogs and video channels to building user base to creating viral campaigns. We are the perfect destination for all you needs to promote your business on social media platforms like YouTube, Facebook, Twitter and more.