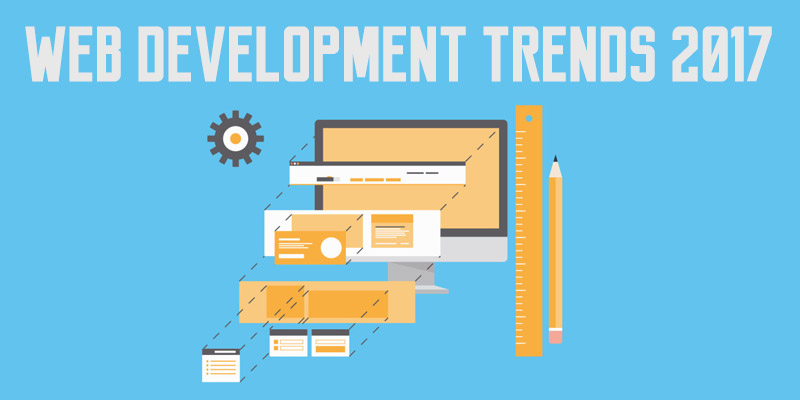 Technology has been changing and will keep changing constantly in the future too in order to help websites reach the top while satisfying users with a great website experience. And, it is important that you keep up with these continually changing trends. Every few weeks you see updates and developments, and it may get you quite frustrated to keep changing the elements on your website to stay up-to-date and hit the first pages of SERPs. This is why companies hire a professional Web design company in India to take care of all these updates and makes changes to their website constantly to keep up. And, you can do so too.
To help you meet the growing Web development world, we have come up with a list of the most important Web development trends for 2017 that you must adopt to provide the best solutions to your clients. So, prepare your site to meet the new generation demands with these Web development trends.
Artificial Intelligence
With Artificial Intelligence (AI) seen to be one of the favourites of 2016, it continues to take up a high position this year too. With Google, Wikipedia, Facebook, Amazon, Taco Bell, and many others having started to use AI to offer superb and engaging online experience to the users, there is a great chance of continuous adoption of such dynamic solutions that can think and act as a human without requiring manpower to provide perceptive solutions to user queries. However, developers are expected to start using AI in new and different ways this year to widen the power of technology.
Internet of Things
The internet is expanding, and is shifting from our desktops and smartphones to household appliances too! With the advancement in technology, we are demanding the internet to allow us to control every facet of our lives. And, it is the Internet of Things that allows for exchange of data that can help linking of smart objects to the internet, thus helping users to do a variety of everyday things with this new ability. Web developers are using this technology to help users control and communicate even more with their daily equipment and gadgets.
Motion UI
Motion UI is a SaaS library that is used to create custom CSS transitions and animations. This updated version has stronger transition options, flexible CSS patterns, and animation queuing system that can work with any JavaScript animation library, enabling seamless integration of animations into websites. Developers are bringing websites to life by increasing movement and creating a breathing site that reacts and changes according to every individual user.
JavaScript
JavaScript is by far the most popular technology that is being used by Web developers, and it is advisable for every professional Web developer to learn the core concept of JavaScript. This is because this language is most versatile and can help you create highly interactive Web components. jQuery, Angular.js, React.js, and React.js can help create powerful application architectures.
Angular 2
The year 2016 also saw the release of Angular 2 that updated the JavaScript architecture and completely redesigned its framework. Taking advantage of JavaScript ES6's features, applications are now written in TypeScript. The more defined Angular 2 makes and oversees animation timelines effectively to offer a highly interactive experience to the users. It now intends to release three minor and one major update every 6 months, meaning that lots of changes are to be seen in this widely popular framework.
It is all about improving user experience and user interface when it comes to Web development in 2017. You need to develop a highly interactive website to market your business effectively amidst the highly competitive environment. And, it is suggested that you hire a professional Web development and Web design company in India that can meet user requirements and help you website stay updated with the above mentioned latest trends and more.