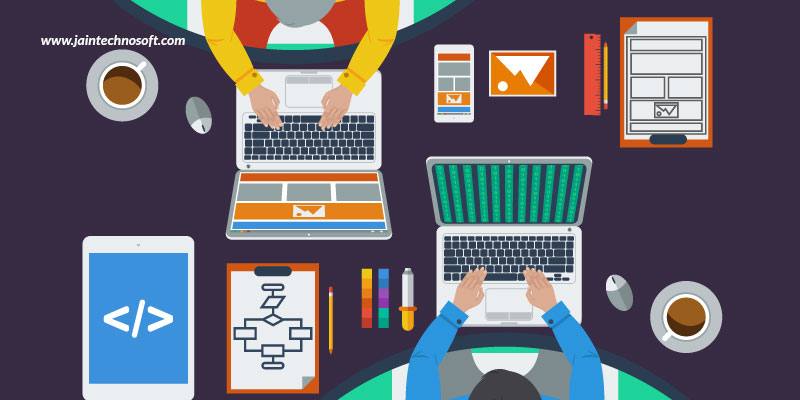 One of the most imperative ways businesses are promoting their brand online is by creating websites that describe everything about them like their brand, products, services, contact information, etc. Websites act like a complete brochure and reflection of a brand, which is why it needs to be flawless and up to the mark. This is why businessmen hire specialized Website developers and designers to design the perfect website for their brand.
However, many businessmen develop a website on their own if they have a little knowledge about the coding, domain registration, and web hosting process. They simply choose a content management system and put in some content and coding, and set up their website to go live. This is majorly done to avoid the costs that web development professionals charge, but this is not the right way to develop a website. If you are serious about your business and wish to produce the best outcomes out of your website, you must hire professional web development services in India that experts offer. Only professionals can do the right job and help you come up with a good return on investment.
Hiring a web development company brings perfection to your work. After all, a website creates the first impression about your brand upon your visitors, which is why it needs to be perfect. Once visitors are flattered by your website, they will proceed to getting to know you further and purchasing from you. On the contrary, if your website doesn't appeal to them, you are definitely going to lose out on those potential customers and thus, lots of revenue. So, let professionals handle this task so that your website proves to be the ideal entry point for your visitors towards your deal. Nevertheless, your website is the first step to your introduction.
But, with so many web developers and web designers out there, how would you know which one to choose? You need to be able to judge the level of professionalism that the company displays with their clients. It is only professionalism that can convert a website into an innovative and interactive space for your business. Companies, who have been providing web development services in India for the past many years, preferably a decade or more, should be hired. Having existed in the market for such a long time has definitely brought to them quite a lot of experience about their job. Well-experienced professionals know the ins and outs of the business and can do their job perfectly well. Moreover, they are acquainted with the latest Web design and development technologies. Web development is a constantly changing field, which is why the people working on your website should also be capable of adopting the latest technologies.
So, make sure that the Web development company you choose has experienced and qualified professionals working for them who are trained and skilled with the latest technologies. Also, you could check for their past work records to see if they have worked for clients falling in your niche. This will make it definite that they have good experience about your market, which will ensure that they'll do the job pretty well so that you can stand somewhere high above the others in your niche.