The release of iOS 7 has millions of people around the world scrambling to get their hands on the latest software for their iPhone. Unfortunately some of us are running into problems.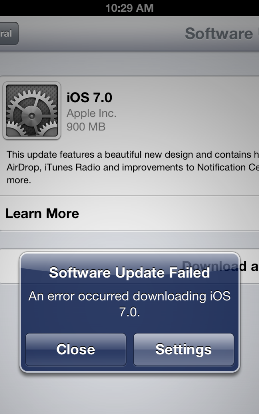 The error message is titled "Software Update Failed" and says "An error occurred downloading iOS 7.0". There's nothing you, as a user can do from your end to get the download working apart from waiting for the server load to go down.

The biggest change to iOS 7 since the iPhone, earlier today and it seems the company server's aren't able to handle the huge surge in traffic. Users are reporting failed downloads as a result of the excessive server load on Apple's CDN.
Users initially experienced issues while downloading iTunes 11.1 too, but the issue seems to have resolved now.
However, we're seeing scattered reports on twitter and elsewhere that the update isn't going through for a lot of people. Some people are getting messages that download has failed. Others are getting messages that update isn't available yet. Still others are complaining about very slow download times.
How to fix this? Patience and persistence matters. Keep trying to download the update again, or if you can, until later on in the day when the initial demand goes down. You'll eventually get through and the update will finish downloading and install. You could also try installing the updates via iTunes as well, but that's not fun right!