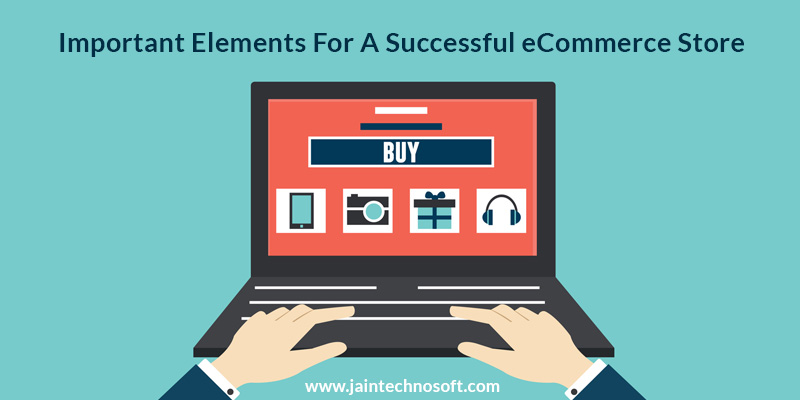 Shopping these days has gone majorly online. Whether you want to shop for fashion merchandise or electronics or gadgets or anything at all, you can get everything online under one roof. There are so many ecommerce websites for online shopping that it gets difficult to make a mark by standing apart from the others. If you want to rise higher than the others in the market and build a reputation about your site, you must have certain elements that are important for the success of your ecommerce website.
Identity
The most important thing is to build an identity of your own. Just like a person is known by his or her name, even your business needs a remarkable name. First, think of a name you would like to give to your business. The next step is to build up a logo. Not only for ecommerce sites but, a logo is necessary for any kind of business. A logo is a symbol that can bring you instant public recognition. Your logo should be well-designed, eye-catchy, understandable and should be easy to remember and connect with. It should have not more than four colours. Keep the logo simple yet attractive. You can hire experienced logo designers to do the job for you.
Impressive home page
Your home page is what will help the visitors decide if they want to stay on your page or not. It will take them only a few seconds to decide whether they like or dislike your page. So, you must have an attractive and well-designed home page with an interesting structure. You must have all the necessary elements to grab the attention of the visitors. It must be easy to navigate through the page. It is also important to have a quick loading time for your page. If your page takes longer to load, the visitors might quit your page.
Products at the top
An ecommerce website generally has hundreds and thousands of products which cannot fit into a single page. Thus, you must carefully place specific products at the top of the page. These products can include branded products, best selling products, newly added stock or the items on sale. The main thought behind this is to attract customers or first time visitors.
Offers and deals
Customers shop for their requirements online for two reasons – one is easy access and home delivery and the other is great deals, offers and discounts. You can combine different products and offer deals to your customers or give heavy discounts on certain products. People are always ready to buy things that have slashed prices. Be smart at placing offers that can be beneficial to you as well as your customers.
Shopping cart
A shopping cart is the most important feature where customers can place their preferable products before finalizing on what all they want to purchase. This also helps them to add or delete the products they do not want for the time-being. It also shows them their past orders placed.
Shipping services
Some ecommerce websites add a minimal shipping expense to the purchaser's bill for home delivery while others offer free shipping. Try to offer free shipping to your customers and if that is not affordable, place a minimum shipping charge on their purchase. You can even place offers like free shipping on bills over a certain amount of money.
Payment systems
You must clearly state all the options you offer for payment. Mention which credit or debit cards you accept. You must also provide a net banking option for those who do not use such cards. The most popular payment option among customers is Cash on Delivery. This makes them feel secure because they can pay after they get the product in hand and after checking if they have received what they had ordered for.
Work on the above mentioned points in order to build up a great successful ecommerce website. If you are new in the market and don't have enough knowledge about it, you can get in touch with Jain Technosoft, who with their skilled team of web designers and developers offer the best ecommerce solutions to build a great website for you.