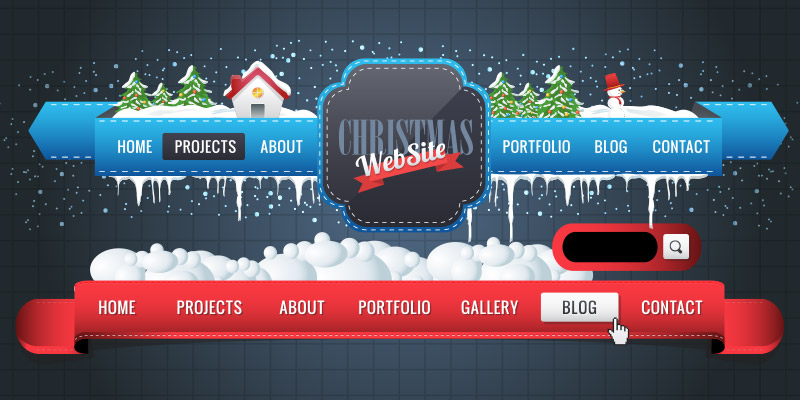 It's that time of the year when everyone is planning for Christmas and New Year – customers are planning their shopping lists, and businesses are strategizing their advertising plans to bring in more customers to their store to shop. You need not completely renovate your website, but you definitely need to customize it for the festive season, if you want to stay competitive. Moreover, a festive site can attract more users, engage them on your site for longer, and in turn improve your SEO performance. You can hire professional Web designers in India to help you with just the right elements and the appropriate amount of designing needed on your site for the festive season without having to completely change the design. Here are a few ways you can easily tweak your Web design.
Use holiday colors
What are holiday colours? These are two sets of colours that you can use to depict holiday season on your website. One is the traditional red and green to reflect Christmas, and the other is a combination of blue, green, purple and white to depict cooler temperatures and the winter holiday season. However, while planning to use these colours, you do not have to replace your brand's overall colour palette. You can use these colours tactfully by adding them to highlight CTA buttons, or as backgrounds to highlight special offers, or in any other subtle way. These kinds of hints will have your visitors to begin thinking about the coming holidays and the shopping they need to do.
Add holiday images
You can also add holiday images to your site. Update your pictures and graphics with holiday-appropriate images. Upload all that can make users comfortable watching during the winters. You could add images of people in winter wear, snowfall, Christmas trees, 'Merry Christmas' signs, etc. However, make sure to use those images that match your brand while reflecting the festive spirit you wish to create on your site. If you have professional Web designers hired, you need not worry as they will handle it all by themselves.
Advertise your holiday promotions
Almost every business comes up with new offers and promotions during festivals and holidays, and so would have you. So, make sure you advertise your promotions on your website in a prominent manner so that you can earn the holiday sales you are expecting. These could include sales, coupons, discounts, etc. Along with these promotions, you can also come up with attractive elements like a guide that can help visitors and prompt them to buy from you.
Plan up great landing pages
Apart from customizing your website, you will also want to update your landing pages to reflect the holiday season. Your landing page is what helps visitors decide whether or not to buy from you. It is also one of the factors considered by search engines while ranking your site. So, customizing your landing pages around holiday related search terms will help you rank better for those keywords.
To summarize, we can say that creating a custom design for your website for the holiday season can up your sales and help you earn more revenue. So, hire the most proficient Web designers in India without wasting any more time to help you design your Web pages in the best possible way for this season.