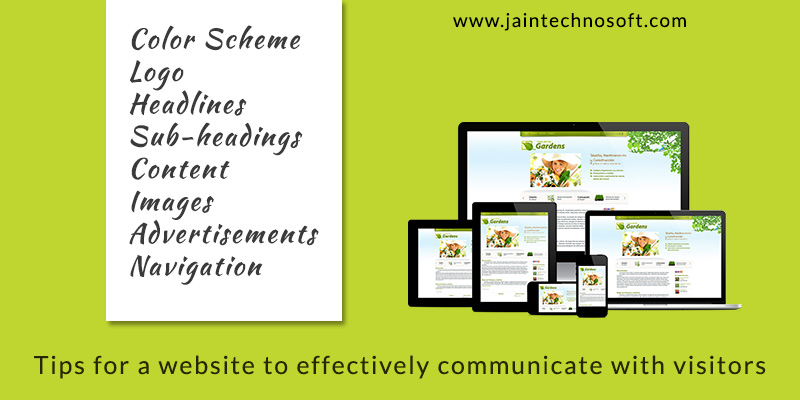 A website should be created in such a way that it can communicate its message effectively to the audience. Whether it is a blog, corporate site or eCommerce site, it needs to efficiently communicate with the visitors to convert them into customers. Here are some factors you must consider to improve on the communication level.
Colour scheme
The first thing that will attract or disinterest a visitor is the colour scheme used for the website. Colours are what impact the look of a website and are a critical aspect of web design. Almost every colour is assigned a particular meaning or representation. For example, white symbolizes purity, yellow symbolizes cheer, green symbolizes nature and blue symbolizes trust.
Logo
A website possesses a company's logo. The logo should be well-known and recognized and should be able to communicate a message in terms of branding. A well-designed logo helps the company to communicate its basic qualities and gives people a viewpoint about their brand. So, you must be willing to pay a good amount of money to get a quality logo designed for your business, if required.
Headlines
Headlines are what a visitor will read to get an idea of what the page is about. The headline should be such that it compels the readers to read the content stated below. It should be short yet attractive and compelling, and something that summarizes the content correctly and effectively.
Content
You need to pay attention on what you are including in the content of your website. It needs to be precisely written with easy-to-understand language and correct grammar. Also, the amount of text you need to have on your page should be analyzed. If you have a corporate website, it is alright if you have lengthy text, if you are writing a blog, have a reasonable amount of text, while if you have an eCommerce site, restrict your text to the minimum and only provide relevant and important information about your products.
Sub-headings
If you have long pages of text, it gets very boring to read. So, break up the text into small chunks and paragraphs. Provide a sub-heading for every paragraph so that readers know what you are going to talk about. This is also useful so that when users land on your site and are convinced with the heading, they can go down to read the sub-headings first to analyze what you will be talking about and decide if the content will be useful to them. It gives the readers an easier time to quickly grasp the type of content and provides a good structure to your site.
Images
Just like it is important to break up a large piece of text into smaller chunks and provide sub-headings, you can also provide an element of interest to the boring text by adding relevant images. Interesting images will grab the attention of the readers and will improve the overall appearance of your site. However, it is important to analyze how the images will communicate with the users. Make sure you provide relevant and good quality images.
Advertisements
Every website has some or the other advertisements placed on them. You need to take care of which ads are posted on your website because these ads will send messages to the visitors in terms of the content on your site. Try posting ads that would be relevant to the visitors on your page. Also, limit your ads so that they don't hinder the view of your actual content.
Navigation
Navigation also plays an important role in communicating with the visitors. How and where you place links on your site should be a thoughtful process. Make sure that the most important pages are included in the main navigation so that they are easy to find and can be accessed quickly. Other pages may be linked within the content of the page or in the footer or sidebar.
Keeping all this in mind, you should have a website such that it can effectively communicate with the visitors and compel them to return to your site. If they keep returning to your site, they are sure to become loyal customers, and this is what you want to achieve. You can hire the services of Jain Technosoft, a leading website design company in India, which has a team of professionals who can take care of all the above elements and more to create an attractive, informative and user-friendly design to create a great impact on your website visitors.