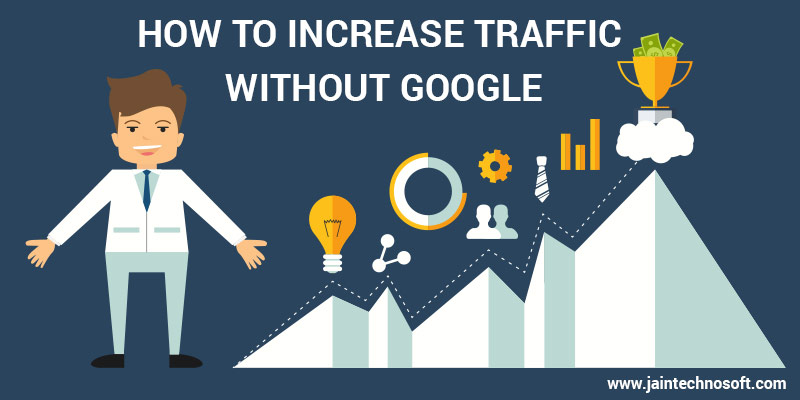 It is well-known that you need to have better search engine optimization to rank higher in Google. People put in all sorts of efforts like writing high quality traffic, putting in great keywords and increasing links on their site. But, even after all this, they fail to rank high. In this article, we will help you know how you can increase traffic on your site without any help from Google.
WEBSITE SPEED
Users are turned off when websites take time to load. They start navigating away from the page rather than waiting for the page to load. If you want to avoid this, you must make sure to have a site that loads quickly, probably under 3 seconds, because that is the average time taken by users to wait for a page to load after which they start losing patience. You can do this by installing catching plugins like W3 Cache or WP Super Cache. Also note that plugins can slow down a site if not executed properly. So, be very careful while installing them. Thus, improving a website will reduce bounce rates and increase conversions that will in turn result in higher rankings.
ADVERTISEMENTS
Social network media like Facebook, Twitter, Reddit, Stumbleupon and Pinterest have their own advertisement platforms built up. You can post your ad here for bringing more traffic to your site. You can also have a banner advertisement on Google Ad Network or BuySellAds. If you deal with news websites, you can take some assistance from Content Discovery Platforms like Outbrain, Taboola, Gravity, MGID, Disqus and nRelate. But, this would require a lot of trial and error, which means quite some money invested.
GUEST POSTS
You may have posted great content on your blog but are not getting the traffic you want. You can let more users read your content by posting it on blogs other than yours. Posting content on popular blogs will derive a lot of traffic if your content is genuine and interesting.
BLOG/FORUM COMMENTS
Just like posting content on popular blogs, you can even post comments on other people's blogs. Add your own comments to the conversations going on between hundreds of users relating to a particular blog. This will let those users notice you and might help you build a good relationship with them if they find your comments worthwhile. If you have some particular content on your website that relates to the given blog, you can even specify the URL of your page while conversing. This will have users visiting the page and in turn, your site. You can get the same results when you start conversing in a forum.
CONTENT AGGREGATORS
You can submit your content and links to content aggregators like AllTop, BizSugar, Inbound, AffBuzz and AffDaily. Check which aggregator suits your business type well and submit your links to them. Other than exposure and traffic, you will also gain some high-quality links to improve your off-page SEO.
QUESTIONS AND ANSWERS
Start taking part on sites like Quora and Yahoo Answers to gain recognition. Give genuine and relevant answers to the questions that people are asking there. If you succeed at providing them with what they need, they will definitely build up a relationship with you and want to know more about you. If the conversation relates to something on your site, provide your URL there for further reference.
Utilize your time to use any of the above mentioned tips and you will surely gain more traffic than what you are receiving now. Apart from the above mentioned points, you can even improve your SEO for better rankings. Jain Technosoft is a leading SEO company in India that can help you optimize your website to get better traffic in an organic way.