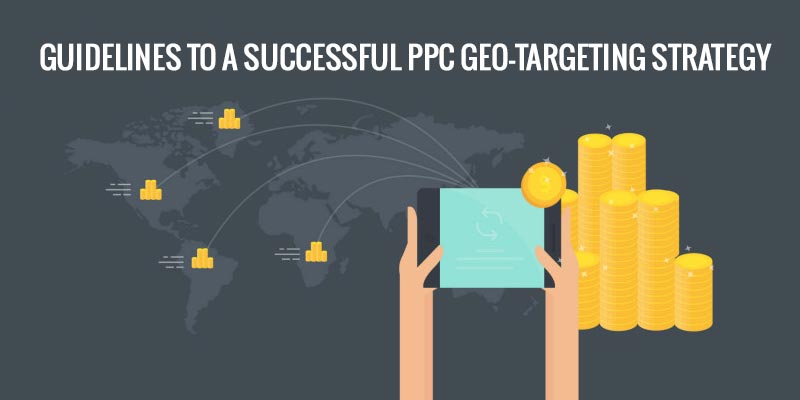 Geo-targeting is a very essential tool for successful PPC marketing, which not only helps target the locations that are essential for a particular business but, also helps improve user experience for the particular geographically targeted audience. A proper geo-targeted plan leads to improved ROI and increased traffic. It also provides the users with the best language and advertisement options, and reduces the number of wasted clicks. Let us learn about all of this in detail.
Using AdWords, you can set up your main location along with additional sub-locations that you prefer for your business by using the +LOCATIONS button. This is how you geo-target your business. But, are you making the most of your geo-location data for your PPC marketing campaign? Here are some tips on how you can improve your geo-strategy for increasing potential customers and in turn, your profit.
What are the basic principles for geo-bid adjustments?
Before knowing how to improve your strategy, you must know what you are exactly trying to accomplish with geo-bidding adjustments for your target location. Here are a few of the basic principles you need to bear in mind.
You are aiming towards maximizing your PPC campaign volume and ROI.
Geographical locations are used as a bid factor to increase tendency of purchase, which depends highly on a mix of demographic and cultural characteristics including employment type, income level or leisure activities, to name a few.
Just because you are having a great search query volume doesn't mean you are getting more money to your business. Remember that you need to look for better conversion rates because you are paying for clicks.
You may need to make changes ranging from 10 to 50% in terms of bid adjustments. It may even go up to a 100% if you are looking at a highly localized type of business.
Aim at having long-term results in order to build up high statistics for your business. Short-term results will not lead you farther ahead.
Remember that behaviour will not remain the same everywhere and at all times. It will vary from industry to industry and campaign to campaign.
How to improve your geo-strategy?
Narrow down your targets
Start with your main location in AdWords and go down to the narrowest possible target settings like state, district, city, town, postcode or even airports and universities. You can keep a check on the performance for specific locations within the 'Settings' tab followed by Locations > Target dates > View location reports. This lets you see the data from state level and all the way down to a specific neighbourhood or university. You have the option to make quick and easy changes by selecting a target and making bid adjustments and exclusions. Thus, you have control over the performance of your campaign by bringing more qualified users to your site.
Target individual regions
You can have control over individual regions by separating every region with an individual campaign. This helps you have complete control over specific keywords, which provide the most relevant user experience for your audience and can entice them to click. You may even add dynamic content by using store location extensions like address and phone numbers, which will increase click-through-rates and in-store conversions. But, remember that this strategy will be challenging because of the large number of campaigns and keywords required for individual region targeting.
Mention your location precisely
Be very careful of targeting common names. A single name could target different locations of the same name. For example, if you mention 'Aurangabad', are you targeting the one in Maharashtra or Bihar? If you mention 'Kota', are you targeting the one in Rajasthan or Karnataka or Uttar Pradesh? Imagine if a user in Rajasthan looks at a search name Kota but, is redirected to your page that is actually targeting Kota in Uttar Pradesh. This will not only frustrate him but, will also have you paying for a click that has no chances to convert. So, make sure to specify the location precisely and exclude the locations where you don't want your ad to appear. This will ensure that you reach the right audience.
Follow the above mentioned tips by keeping your geo-targeting principles in mind and you will surely have a successfully planned PPC marketing strategy.