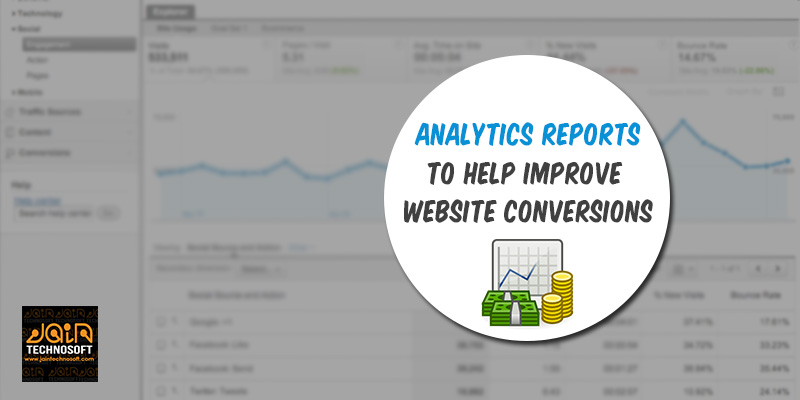 Google Analytics (GA) report can go a long way in helping you improve the conversion rates for your website. These reports give a clear picture of what is working for your site, and where it is lagging behind. Based on the reports you can come up with an improved marketing strategy which will help you boost your conversion rates.
Though Google Analytics has some 78 different kinds of standard reports, we bring you some of the best reports which you can use efficiently to increase the conversion rate of your ecommerce website.
Content Report
One of the most important reports of Google Analytics, Content report displays the Page Views of your website and also the active user' percentage on your site. Based on this report you get an understanding of which devices are used by visitors to visit your webpages. This information is quite vital as based on it you can optimize your page in a better manner. Based on this report you can come up with more engaging content for the end user and thereby generating significant conversions.
Audience Report
This report provides you an insight of your website's traffic as well as the user behavior on your site. Through this report you get a clear picture of the various aspects of your website, like:
Who is your audience? This report includes the demographics, location as well as interest of the audience.
How the audience consumes and reaches your website's content? It also tracks mobile phone audience.
You get to know user engagement and loyalty, which includes behavior.
Based on this kind of information you get to know the user behavior, their preferences as well as what 'clicks' and what does not with the visitors. Based on this report you can revamp you entire strategy to give much better user experience and gain better ROI.
In-Page Analytics Report
One of the most under-used features of Google Analytics, this report identifies the crucial areas of your website including the links which refers your visitors to your website. Based on this report you will understand which part of your website has higher chances of being viewed by your visitors. With this report you can bring changes to the layout of your website in order to retain the key links in the areas where you receive maximum traffic.
Traffic Sources Report
This report brings you information related to the traffic on your website. In fact this report gives you all information regarding the incoming traffic on your website. You get to know:
Which keywords were used by visitors on search engines to locate your site?
Did you get visitors because of your Facebook or Twitter updates or due to your monthly newsletter mailed to them?
Was your website searched using its URL?
E-commerce Overview Report
One of the most useful report of GA, it brings you the "outcomes" of your online store. Along with this you get answers of SEO questions like:
When does the conversion take place – business hours or after it?
How much time is taken by users to convert?
Popular and most demanded products and services?
Which browser brings the best conversion rate?
Whether all browsers bring equal conversions on your website?
All these reports are very crucial to measure your website's overall performance and thereby improve your conversion rate. Make most of the GA reports and see a positive growth in your business.