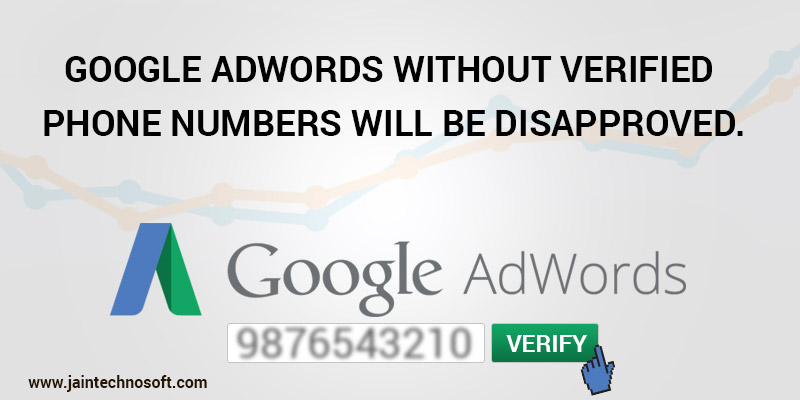 Google AdWords is an advertising system introduced by Google in which advertisers get to bid on a certain keywords so that their clickable ads appear in Google's search results. With the AdWords program businesses can easily set a budget for advertising and need to pay only when people click on the ads.
Recently Google AdWords has come up with a verification policy for call and location extension phone numbers. With this move advertisements which do not have their phone numbers verified will be disapproved by Google AdWords. These phone numbers will be listed as "Unverified"/ "Unverified phone" in the Ad extensions tab.
How do you get your phone numbers verified?
In order to get your phone numbers verified, you need to take one of these steps:
Have the phone number being used in the extension listed on the website (in text).
Link your AdWords and Google Webmaster Tools accounts.
Add your AdWords conversion code snippet to the landing page in your ad.
And in case you are using a third party call tracking facility, you can still use the 2nd and 3rd options to verify your numbers. You can also get your account team to update your account's verification status on your behalf. This verification by Google will come into effect from June this year.
Along with the verification policy, Google AdWords has also launched its 'call-only campaign'. The call-only campaign exclusively targets mobile devices. Businesses can easily create this campaign. Here the call to action or conversion event is a phone call. In the Google AdWords interface you just need to select "Search Network Only" under the Type Field and choose the "Call-Only" radio button.
Who will benefit from this?
There are many service – based businesses (pest control, hair stylist, lawyer, plumber etc.) which seek a phone call for the desired conversion action (setting an appointment). This way the call-only campaigns are one of the best things to happen for lead-generation companies. Until now most of Google's shopping campaigns pushed consumers to the website and then they needed to make a call. But now the consumers/ leads can call the merchants directly from the ads posted and thereby reduce the number of steps involved.
Earlier advertisers were able to set up call-only ads with call extensions, but with this new ad product from Google AdWords, it is now easier to measure calls as the only conversion type for a campaign. Apart from this it is easier to it is simpler to implement this option in the user interface. Now those advertisers who were using the old methods of manipulating calls via call extensions can easily upgrade to call-only campaign.
Jain Technosoft is a India-based IT firm which specializes in Digital Marketing Services. Driven by a team which is highly experienced and extremely knowledgeable, Jain Technosoft knows what it takes to market your business efficiently in the digital world in a cost-effective manner.