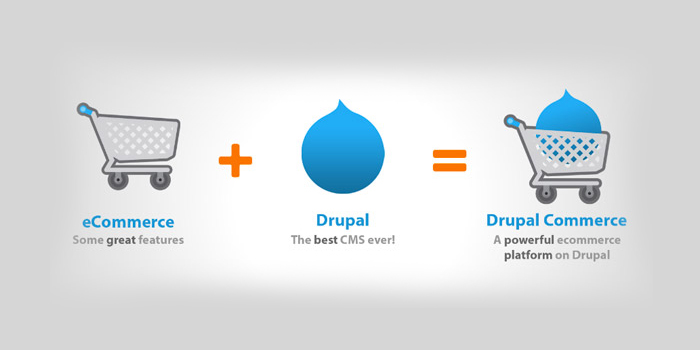 The recipe for a great online store is a perfect integration of shopping cart platform with a content management system (CMS). An integration of both the platforms provides your customers with a simple and easy way to go through your store and place orders. It is at this juncture that Drupal + Drupal Commerce are quite useful.
But before we move on to know the advantages of Drupal, let us understand why one should opt for an integrated ecommerce platform:
An integrated platform enables you to create marketing as well as blog content on the site. It is a known fact that in the long term, content marketing is the only viable way through which you can increase the traffic on your website. Therefore you will require a shopping cart platform which gives you the freedom to create content outside the product catalogue of the site.
When you opt for an integrated platform, you take a cost-effective decision. It is usually seen that managing products on one platform and content on another platform is not only uneconomical but also very ineffective. Moreover when the platforms are not integrated, it becomes even more difficult to optimize the sales conversion ratio.
Providing a better customer experience to your website visitors leads to more sales and generates more leads. Therefore it becomes even more important to integrate the platforms, so as to provide a seamless journey to your customers.

Now let us consider the advantages of having Drupal + Drupal Commerce as the integration solution:
To begin with the USP of any E-store is the easy and smooth journey it offers to its visitors as well as site administrators. And it is here that Drupal + Drupal Commerce provide the biggest advantage. Being integrated at the very deepest level, you will not have to pay for extra development to make both the platforms work together.
Drupal is not just a shopping cart. Rather it is an E-commerce framework which provides you with all the standard functionalities through a series of contributed modules. Also you can very easily extend the framework by adding other functionalities depending on your needs.
Another major advantage of Drupal Commerce is its order management tools, which is part of the same administration toolset found in CMS. This enables you to view, manage and update orders on your website without any extra effort. You can also send update related to orders and wish lists through your website.
Even when it comes to creating platforms for smartphones and tablets, you get to create a very responsive version of your site. This makes it easier for you to reach out to more customers and increase your sales.
These days online community sites attract a lot of traffic. Drupal is one of the best platforms around which you can build your online community site. It allows new customers to create account for the shopping site as well as the content management system, where the online community is hosted.
Lastly the two special modules which give Drupal an advantage over its counterparts are – Views and Rules. Drupal's View Module provides you the flexibility to create custom displays of any content that you want – be it the products on the front end or order management at the back end. It's Rule Module, on the other hand, enables you to configure your website act in response to almost everything a customer or visitor to your website does. This helps you to take actions based on the visitor's actions. For example creating a complex shipping rule which helps you to handle any scenario or sending automated follow-up email to a customer who has abandoned the cart during checkout.

Thus Drupal not only enables you to get a better integration, but also contributes positively to the growth of your business.

For further details and suggestions you can get in touch with us. We are the best E-commerce Development Company in India. Our team of highly professional website designers will help you with an e-commerce solution which fits your business requirements and helps you generate maximum conversion ratio.