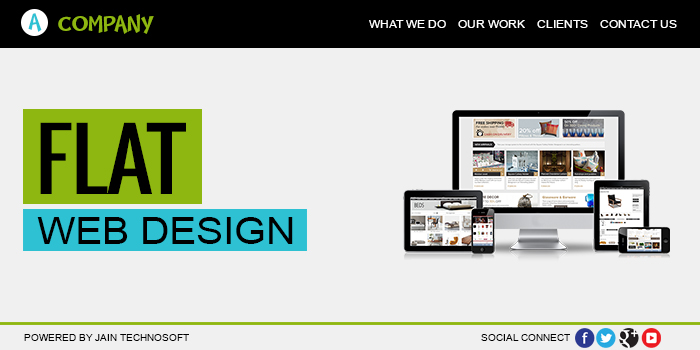 Since the launch of Apple's iOS 7 in June, 2013 many interfaces, apps as well as websites have adopted a flat design. Before flat design became a rage, most designs were skeuomorphic with lot of gradients, 3D effects as well as texture. Now, before we go on to examine how flat design is hurting usability, let us first understand what does flat design exactly mean?
Flat design refers to a web design which uses minimalistic approach and emphasizes usability. This kind of interface design removes any stylistic choices which give the illusion of three-dimensions, for e.g. gradients, textures, drop shadows etc. Thus a flat design consists of open space, clean, crisp edges, bright colors and two-dimensional illustrations. It is usually preferred by designers as it allows efficient streamlining of interface designs. Due to its minimal design elements, it helps websites load faster and resize easily. The principle idea behind flat design is to enable users to figure out what buttons and other elements in an interface stand for, without the need for a real-world appearance. Microsoft was the one of the first to apply this design style to its interface.
Though Flat design looks modern and trendy, there have been several users who are not satisfied with the new look. There are many web developers who regard flat design as a "fashionable design threat" which hurts both the users as well as companies. Also many users feel that the flat design is rather dull and boring!
So let us see how exactly are flat designs hurting usability. The two major problems with flat design are:
They are not intuitive
Users find it quite confusing
It is usually seen that without the visual clues, several users are unable to identify the icons as buttons, interfaces and websites. For e.g. Windows 8 created their flat design specially for tablets, which worked well with the users as the swiping through the interface works well for a touch screen. But the same design was seen as a trouble by desktop users with a mouse.
Navigation is yet another issue for the users. There are many users who complain about trouble in finding files as well as clicking the right buttons. Thus at the end what matters is how useful is the design for the end user. Minimalism is good up to a certain extent, but if it hinders the users' navigation an understanding, then that means that the design has failed.
The Way Out
There is no doubt that the simplicity which Flat design offers to its users. The only thing which the web designers should keep in mind is that not to go overboard with the flat design – like the design has no visual clues to help users move effortlessly through an interface. Precisely for this reason, both Windows 8 and Apple's iOS updates are adding visual clues back into their design. While the iOS 7.1 update includes an improved look and improved apps like the calendar, Windows 8.1 allows its users to opt out of the Modern UI interface and use the desktop version instead.
Other ways of improving the flat design are:
Using highlighted texts when a clickable item is chosen
Using solid background and intuitive layout
Mixing a bit of skeuomorphic elements with the flat design
At the end of the day, Flat design is not at a bad fad. It in fact contributed a lot in toning down the 'busy-ness' of skeuomorphism. The point is not to overdo it. The best solution is that designers combine flat elements with other visual clues and build design which can be easily used even by a layman.