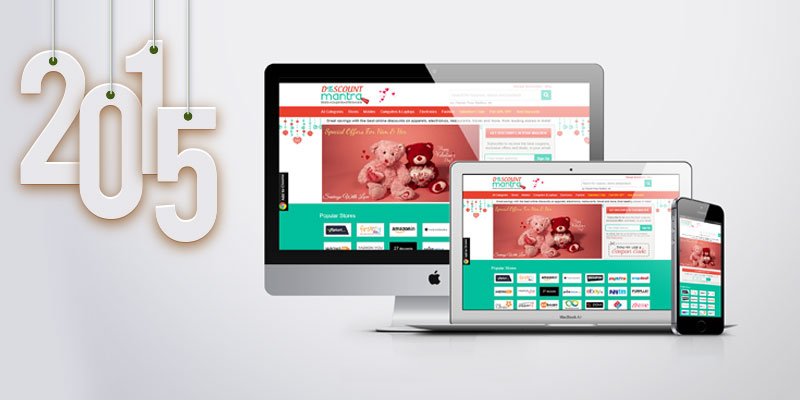 One area which sees regular updates and constant changes is that of web designing. Each year a number of design trends come and go. Many are short-lived, but some designs are here to stay. In this post, we bring you some of the web design trends which are to stay important in 2015.
Responsive Web Designs
This is a crucial aspect of web development. This also is one trend which is here to stay. Responsive websites is the need of the day – web designs which fits well to the screen of whatever device the user is viewing the website on, is quite essential to broaden up your customer base. Opt for designs which fit well for both desktop users as well as mobile device users. We say this as search engines prefer to index only one URL for one site. So if you use responsive web designs, you surely get the SEO advantage of better visibility and rankings.
Personalized User Experience
User experience is another design trend which has gained popularity and is sure one of those design trends which are here to stay in the year 2015. This is one area which online retailers can take full advantage of. Web designers can use intelligent use of website cookies to make pop-ups wore effectively, tailor advertising experiences and thereby provide a highly personalized overall user experience. One of the best examples of websites which strive to give personalized user experience is Flipkart and Amazon.in. Every time a user visits their website, they are shown the items which they had viewed previously or items which they have picked out personally for their users. These websites make use of user location, buying activity and related data so that they can come up with highly personalized suggestions for their clients/ users. You too can make use of this strategy to give excellent user experience to the visitors on your site.
Intelligent Use of Images
Any web design is incomplete without the right images. A well-built website has the right content backed with impactful images. Intelligent photographic elements thus are one of the design trends which you need to follow this month. You can use overlaying photo elements along with the right content and back it with interface elements. This gives your web design a texture which users find more interesting to interact with. It is recommended that you make use of high resolution images which conveys your brand story is an effective and convincing manner. This strategy will surely benefit you as there are several devices today which provide better image resolution.
Fewer Pages on Website
Reduced number of webpages has become essential as today more than 40 percent of the entire internet traffic comes from mobile phone users. Thus this year the trend which you need to follow is that of 'the lesser, the better'. Apart from being easy for mobile phone users, with simplified multi-page design users find it easier to search their requirements of the website. So as a web designer, this year you need to focus on lesser number of web pages and emphasize more on quality, simplicity and clutter free web designs.
These are of some of the web design trends which are going to play a vital role this year… and something which has great chances of being present in the forthcoming years. Follow them and see a positive change in your search engine results as well as return of investment.