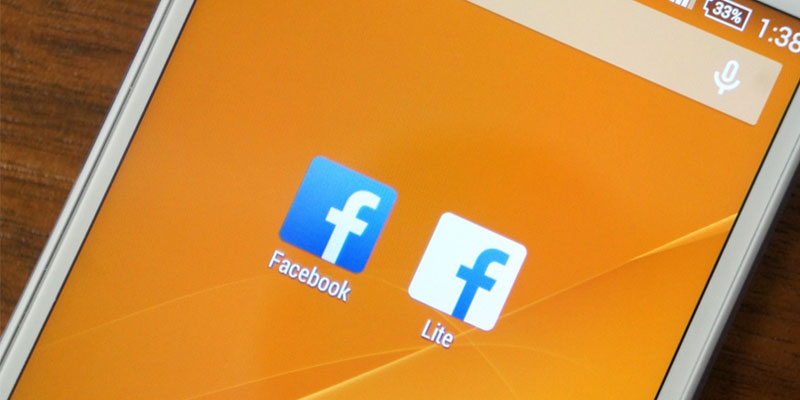 The world has gone mobile. Every rich or middle-class person, every young or old-aged individual owns a mobile phone. And now is the age of smartphones that has innumerous applications to keep one connected to everybody else all over the world. Facebook is one such popular platform. Technology has gone too high with internet speeds now going upto 4G. But, in many areas of the world, people still face network problems and run only on 2G.
Keeping this in mind, Facebook has come up with a new version of mobile app called 'Facebook Lite'. This is a streamlined app that functions just like the full Facebook for Android with a few modifications and benefits for people who access Facebook where networks are slow and are not able to support all the functionality found in Facebook for Android.
The full version of Facebook for Android uses a lot of data and power to deliver, especially the videos. It gets too slow to load because it pulls in photos, videos, posts and links every time you refresh the page. And this gets frustrating with network problems.
Facebook Lite brings a solution to this problem. It is a less than 1MB app that is suited for 2G connections. Hence, it is quickly installed and loaded. It includes all the elements of Facebook for Android like News Feeds, status updates, photos and notifications. This app will be available in Play store and requires Android 2.2 or up. What has been modified in this app is that the right-hand bar has been removed, which in turn removes the ads and the big white space, allowing the actual content of the page to cover the full width of the screen. This app has an added feature that shares locations and supports GIFs. You can now share your current location using a pin on a map. You can even search for a place online and send a map of the place to your contacts.
Facebook Lite was first released in 2009 but, was shut down a few months later. It again was brought up in January 2015 but did not work out again. The problem faced earlier was that it was very limitedly available in a few nations. But now, it has spread out in countries across Asia and over the coming weeks, it will also be available in parts of Latin America, Africa and Europe.
Mark Zuckerberg, the founder and CEO of Facebook, has stated: "We're going to keep working to serve the entire world, and we'll keep building tools for people in every community until we're all connected." The launching of this app shows that Facebook is keen on proving its tagline "connecting the world".
A Facebook app can be highly useful for your business too if created perfectly. So if you want to get a Facebook app or want to enhance the performance of your current app, Jain Technosoft, one of the leading mobile applications development companies, will understand your business requirements and come up with an appropriate solution that will help your business expand.