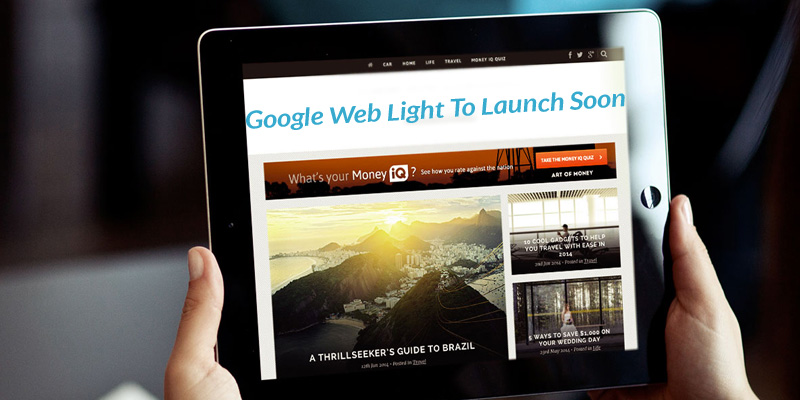 After Facebook came up with a 'Lite' version for Android phones with slow internet connection, Google is introducing a light version too for mobile users with slow internet connections. Google has not launched an official brand name for it yet but, it is for the time being known as 'Google Web Light'. This program was first launched in Indonesia. Next in line are India and Brazil because they are two of the biggest Android markets.
Internet has expanded to 4G now but, 3G is still the standard speed. However, some developing nations and areas are still working on slow 2G connections. Google cares about the experience of people who access the web on these slow connections. Keeping this in mind, Google has thought of this new version to improve the loading time of websites. Through this version, when users click on a page, they will see an optimized page loading faster instead of the full page with images.
This feature, called transcoding, gives pages with 80% fewer bytes and 50% faster loading time. This results in a page to load 4 times faster on a slower connection! Isn't that just awesome? Shorter waiting time results in better user experience and results in driving 50% more website traffic. This compressed website will deliver more page views for the webmasters.
Google says that they want to "develop a way to optimize pages to be faster and lighter, while preserving most of the relevant content". So, if you do not optimize the website so that it loads quickly for mobile devices, then Google is going to do it for you. So now, website owners and SEOs don't need to worry about optimizing sites to be fast.
But, the problem with this is that it will be Google who will decide which content of the website is relevant, not the website owners. Google says "most of the relevant content". How can you rely on Google to decide which content and how much of it is relevant? Also, a lot of the styling of your website is cut off in order to get a compressed website and the images are turned down to low resolution ones.
However, Google also provides an option for the users to see the real page. Google includes a link to the original page on the transcoded version, so that users can see how you have originally built and designed your page. Website owners also have a choice to opt out of the optimization process if they wish to. But, it is suggested to stay with it because it is better for users to see a compressed version of your page rather than not seeing it at all.
Transcoded pages are undoubtedly fast. A research says that a website that normally loads in 3.71 seconds takes only 0.56 seconds to load with this Google Web Light program and a website with a size of 1.94 MB transforms into a 17.3 KB size.