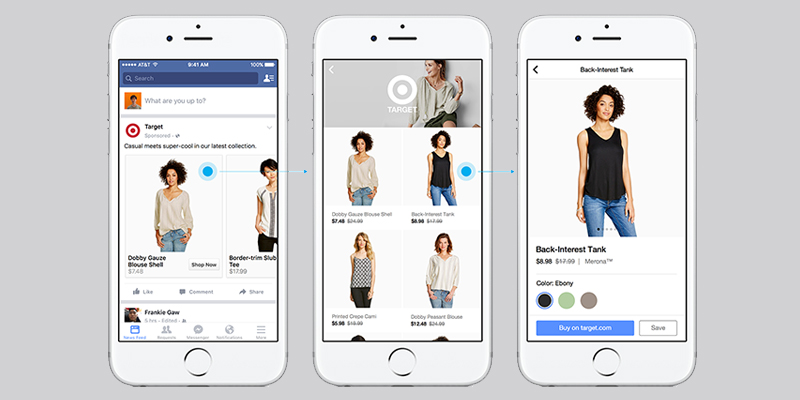 Facebook is the most popular social media platform today used by people of all age groups, all nations and all fields. It has become one of the best ways to stay in touch with people all over the globe, not only personally but, also professionally. People are now using Facebook to even buy and sell products and services. Since the past one year, Facebook has introduced various ad and Page features to make this possible. People have been finding new products on Facebook's News Feed, Pages and Groups.
But, few days back, Facebook announced a special new 'shopping' feature where users can see products from both business Pages and Groups, from where they can purchase. This will help businesses to be seen by potential customers and will help them grow and expand enormously. Facebook is going to test this feature to provide a single place to people where they can find, share and purchase products. It will first test this feature with a limited set of small businesses in the US. Slowly and steadily, it plans to expand the area and add additional elements like 'products for sale' in Facebook Groups.
This feature was revealed in a post on the Facebook for Business blog, which has been highlighting different product-selling features that Facebook has been introducing lately. The company said, "On Facebook we've seen that people are coming to our platform not only to connect with friends and family but also with products and brands. In fact, a survey suggested that nearly half of people come to Facebook to actively look for products, with a majority of them discovering new products in News Feed, Pages, and Groups. This behavior that's already happening on Facebook gives us a chance to make people and marketers' experiences better. We want to build native experiences that make it easier for both people to discover products on mobile and businesses to drive more sales. Some of our efforts are fully launched and are already creating value for people and businesses. Others are in early test phases. These tests will evolve as we get more feedback."
Last year, Facebook had launched the carousel format for ads, where businesses could display multiple products in a single ad. This format drove 30-50% lower cost-per-conversion than others. Facebook's dynamic product ads let businesses upload their catalogs, which Facebook decides when to show to the people, depending on the most relevant time for the products. Isn't that just amazing?
Facebook has also made changes to make Pages more business-friendly with an included 'Shop' section, which lets businesses showcase their products. It has even been testing a 'Buy' button. The company is bringing up more and more ways to get better for businesses to sell their products. We can't be sure if people will regularly use this feature to purchase. We'll have to wait and watch where all this goes up to and if this new Facebook feature leads to more significant sales or not.