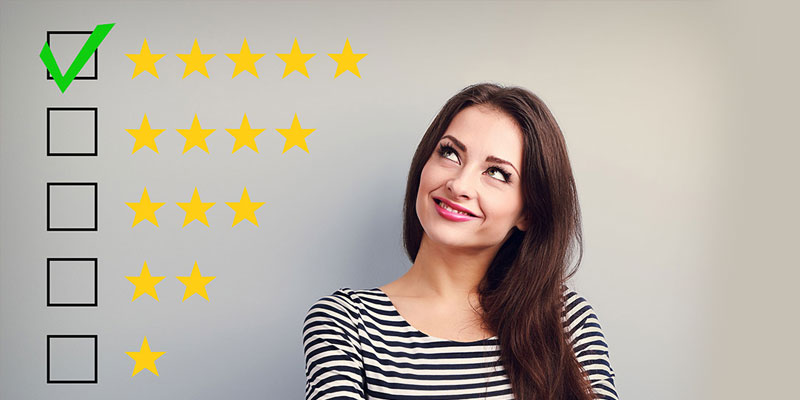 Apart from the product specifications, features and qualities, what else do you look for before purchasing a product? More than two-thirds of online buyers look out for reviews and ratings from other customers before making a purchase decision. Seeing positive reviews about a product prompts users to take a positive step towards their buying decision. This ultimately affects on-page conversion rate. Thus, you must have more and better online reviews on your site. First of all, you must know that there are two ways to feature reviews on your site, which depends on the approach to your business. eCommerce websites that have lots of individual products have specific product-based reviews, while B2B service providers have users searching for a particular brand review, where a dedicated review page is helpful. Whatever kind of business you are, do you think online reviews can influence your position and visibility on SERPs? Let's find out.
Updated content
Publishing online reviews means regular updating of content on your pages; and search engine spiders love updated content. However, online reviews will not boost up rankings in any way but, they will certainly show visitors that you are keen on keeping your site up-to-date. Many eCommerce sites use the same standard manufacturer descriptions and product specifications. This is where user generated content can differentiate a product page. This makes pages more useful for customers, which will result in better conversion rates; and better conversions rates means better rankings in SERPs.
Improved conversion rates
When click through rates increase, the chances of resulting in a conversion also increase. User reviews cannot increase a user's trust in the site but, it can definitely help answer any possible questions and remove doubts that users may be having about the products. Clearing doubts and getting the questions answered means users have more information to help them decide on a purchase. When users are more informed, they are likely to make a purchase, thus increasing conversion rates which in turn improves ranking in SERPs.
Keyword usage
More online reviews bring more keywords and natural language content to your pages, which are both great factors for ranking. You will not have control over what your customers are writing about the product but, there will definitely be some important keywords they may be using that are associated with the products. You can further prompt the users in the right direction to encourage specific types of reviews.
Microformats
Microformats will help you communicate with Google about where your reviews begin and end, and whether there is a rating system associated with the products. This will help Google to create rich snippets of information that can be shown to users in search results immediately. If review content is correctly formatted, the rich snippets will help increase click through rates from SERPs. Rich snippets have the ability to produce a 10-20% increase in click through rates. The higher ratings your product gets the more clicks you will see to that specific product page. This approach will improve your search position and will make it more visible to potential visitors.
It is now clear that customer reviews have certain benefits regarding search engine visibility but, they only play a small role. However, it is worth obtaining them, especially for local SEO visibility. Get Search Engine Optimization services from a reputed company to build your own reputation, earn more traffic and strengthen conversion rates on your site.