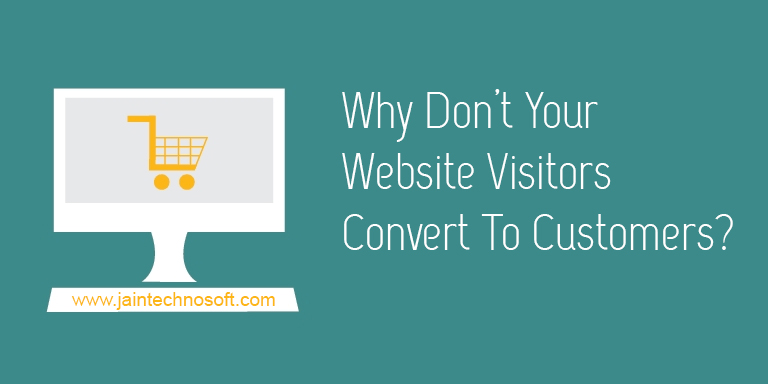 You may be getting lots of traffic to your site, but yet you don't receive a good amount of conversions. People land on your site but don't purchase from you. Why!? There could be multiple reasons like unattractive website design, poor navigation, inappropriate content, etc. This blog will discuss the possible reasons your visitors may not be converting.
Unattractive website design
The first thing visitors notice about your website is its design. The colour scheme, typography, layout, and every other element, if don't blend well with one another, your website design goes for a loss. Striking the best first impression in the minds of visitors is highly important. For this, you must choose a good colour scheme that relates with your business; and font styles and colours that compliment the whole layout. Use good quality pictures and videos; and avoid clutter on your page. Keep your website clean and professional for the best impact.
Dreary content
Content remains king even today. Imagine landing up on a website that is beautifully designed, but has large chunks of text placed just like that. Would you put in efforts to read through all of that, or would you rather shift to another site that offers easily readable text? Easily readable here does not only mean clear and appropriately sized fonts; it means making the entire content interesting to read. Instead of large chunks of text, cut them into smaller paragraphs with headers to let users know what the content would be about. You can make it even easier to read through by providing bullet points or lists. Including relevant images will make the text more engaging and visually appealing by breaking the boredom of 'only text'.
Poor navigation
Remember that you need to make the entire website experience seamless and easy for your visitors. You need to properly guide your visitors through the entire process, right from the time they land on the page up till they are done with purchasing and checkout. Without poor navigation and internal linking, your visitors are going to be completely confused as to where to go and what to do. Complicated or unclear navigation is sure to drive away your visitors.
Not aimed at your target audience
Your website may be a beautiful one with good colours, typography, images, and other visuals. But, it might just not be what your target audience is looking for. Therefore, having a beautiful design is not enough; you need to design it keeping your target audience in mind. For example, you can't have funky graphics and attractive animations for a professional website; or having charts and graphics with in-depth content has nothing to do with baby products selling websites. So, you must put up only what your target audience would like to see.
Complex or lengthy checkout process
Your visitors may have loved everything about your site, and many even have decided to purchase from you. But, the last step of checkout may be the reason why they wouldn't do so. First of all, keep the checkout procedure a simple one-step process. Also, don't force everyone to create an account, and don't even ask for lots of information; or your visitors will get frustrated. Along with that, provide several options to your customers to make payments and receive shipments. Also, make sure to provide them with return policies. Without all of this, your customers may not consider hitting the 'Buy' button.
Less or no reliability
People aren't going to buy from you if they don't find you reliable. You need to prove to your visitors that you are worth their trust. This could be done by including buttons from social media or review sites. Good reviews about you are also important for your site. So, make sure you have them on your site from other reliable names.
The best way to design and build up a great shopping website for your visitors is by letting a professional eCommerce Web development company in India do the job for you. Such professionals know the ins and outs of the business and can take care of every element of web development easily like those mentioned above, along with other factors like SEO, responsiveness, call-to-action buttons, and lots more.