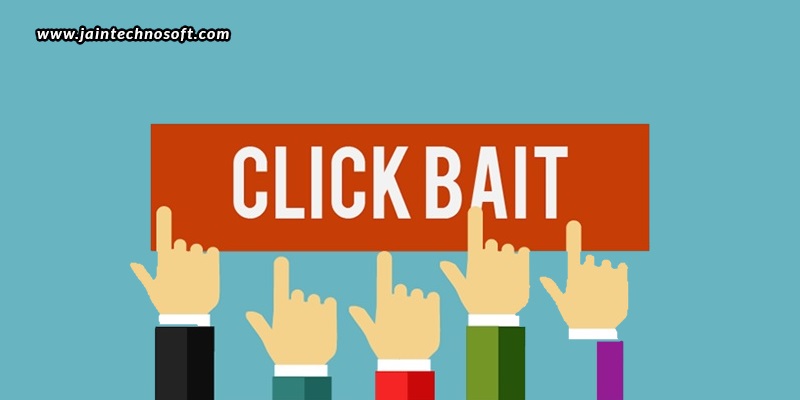 What is Clickbait?
Clickbait is a Web page link deigned to tempt readers to go to a certain Web page to view the content. Clickbait headlines generate curiosity within the readers, which persuades them to get onto the page that shows the entire content. It provides just enough information to make the readers curious, but does not provide enough information to satisfy their curiosity, thus prompting them to click on the link that shows the entire content.
Why is Clickbait useful?
While clickbait has its own advantages, remember that it works only if done in the right way. When done correctly, clickbait can help people take notice and help you gain their attention. After all, with all the immense competition around, it is really difficult to gain the attention you desire. So, you need something that can break through the clutter and bring you attention; and this is just what clickbait can do! With clickbait, you can have more of your stuff read. This is why you must include clickbait into your SEO strategy. One tip here is that extremely positive and extremely negative content generates the most interest; so try to get it right.
What is Linkbait?
Linkbait is the content on your website that other sites want to link to, without any request from your side. It could be a blog post, a video, an eBook, or anything else, linkbait assets come in various forms. You can say that linkbait is the practice of crafting Web content to attract attention in the form of natural links given by bloggers, news media, forum posters, or other website contributors. Whatever the content may be, it is always targeted at a specific subset of the audience, who has the ability to influence or create links, share content, or spread a message virally.
Why is Linkbait useful?
Linkbaits don't involve any trading. You have nothing to do or pay for in order to bring in links to your site. They all come in naturally. There is no paying for links, reciprocating links, writing reviews or doing anything else.
Linkbaits attracts links; and when people link to you for your great content, without having you to force or trade them in, it brings all the juice to you. This will be noticed by Google and will have the search engine recognize your site as one where all the links point to you without backing out; thus bring you recognition, and increasing your chances of ranking higher.
There is absolutely nothing to lose with linkbait. If one linkbait doesn't work, just put up a new one to try. If the second doesn't work too, go in for a third; and so on, and so forth. There is no paying, and there is no penalty, even if your linkbait doesn't work.
If your content is great and is linked to on social network accounts, it has big chances to go viral. This power of going viral while grinding for links will help you climb the SERP ladder easier and faster.
So now, you know that clickbait and linkbait are two successful elements you can include in your SEO strategy to gain links and higher rankings. And, for everything else, there is always an SEO agency in India you can hire to plan up the perfect SEO strategy for you!