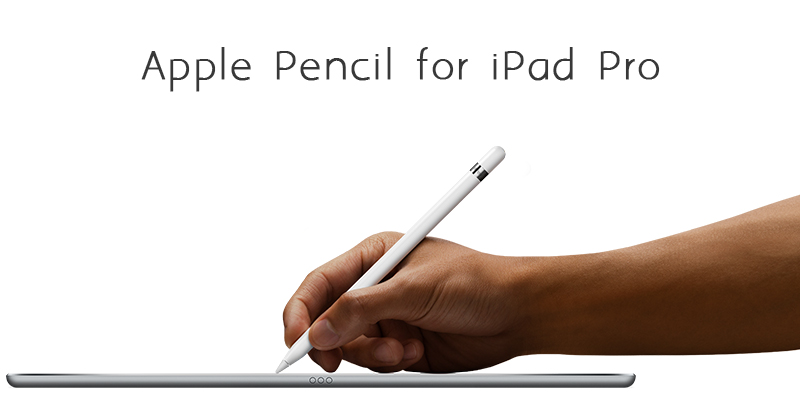 Great designers always want precision in whatever they create. Keeping this in mind, Apple has come up with something unique for designers using iPad Pro. Known as the 'Apple Pencil' it has been crafted to expand the versatility of multi-touch. The technology is something that has never been engineered before by Apple but, they guarantee that the Pencil will seem to be familiar to the designers as soon as they get their hands on it. But, you need to remember that neither the Apple Pencil, nor the iPad Pro target the domestic market. They both are proposed as tools for professionals.
You can create whatever you have in mind very easily by using this Pencil. It brings a variety of tools so that you don't need to hold back on your creativity and imagination. Moreover, it responds at lightning-fast speed. This has been possible because the latency has been reduced to the maximum and this is the best feature that distinguishes it from other creative tools.
This tool has pressure sensors that can measure the amount of force you apply on the Pencil. This pressure determines the thickness of your drawing lines. Use a gentle touch for hairline drawings, and at the same time you can increase the width of lines by simply increasing the pressure on the tip of the Pencil as you draw. You can also add shading to your images by simply tilting the Pencil. While drawing, just tilt the Pencil as and where you require shading effects! Isn't that just so cool?


It also has a lightning connector that lets you charge by plugging it into iPad Pro. Fully charging the tool will let you use it for 12 long hours. If you don't have time for completely charging it, you don't need to panic. A 15 second charging will let you use it easily for half an hour!
Obviously, we all know that this Pencil is not a new creation. Wacom and Sensu have been available as designing tools. Apple hasn't innovated something really different but, it sure has refined the older versions. Apple has never been known for innovation; its products are always well-refined solutions.
Apple has done their best to provide a great tool for designers. But, now it's our turn to see how designers are responding to it. After a survey with professional artists, designers and illustrators, who have been using other tools for designing till date, this is what they have got to say.
"It looks great, but…"
"It doesn't look to have many practical applications in terms of a professional design tool as it's not possible to use full Creative Suite and other industry-standard applications on a tablet device."
"I don't think the Pencil compares to traditional graphics tablets and is more of an expensive toy, albeit a nice one."

"Where I could see a big advantage is in this replacing my sketchbook. I like to go around the city and have a coffee while sketching out new ideas. The hassle with that is that I'm always carrying a variety of pens, pencils, rulers, sketchbook, etc. If it's as accurate as said, this could potentially replace that whole bag of tools for me."
So, with these mixed reactions, we cannot say how designers will react to the Apple Pencil in the future. We will have to wait till November to try out this Pencil but, its arrival is sure to bring up more diverse design trends in the future. The challenge for stylus creators will be to make quality and convenience go hand-in-hand. As for the designers, we can say that they should perhaps purchase a range of styli to have greater flexibility than sticking to only one.